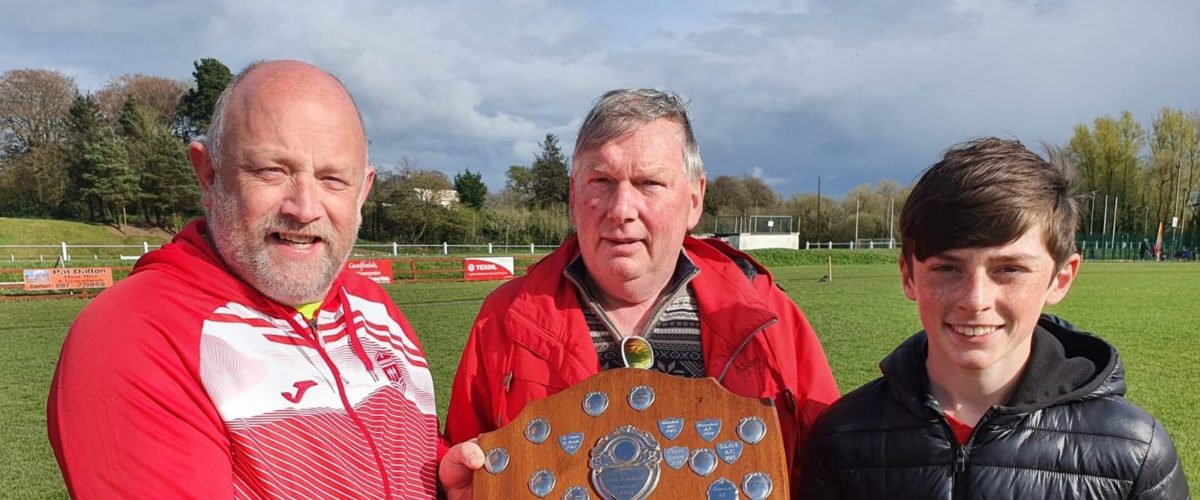 St. Senans AC Open Track & Field
1st May 2022
We had a super turnout from Gowran AC athletes at the recent St. Senan's open track & Field event at Kilmacow. With nearly 50 juvenile athletes, 8 relay teams, some strong performances, new PB's, we brought home the best club shield, winning it for the first time. This is a great achievement as there were 34 clubs from Kilkenny, Cork, Wexford, Carlow, Laois, Waterford, Kildare and Tipperary. Thanks to the parent and coaches as always, and thanks to the hosts St. Senan's AC on a great event. Here are the list of our athletes that competed, results and some photos from the day.
U8   – Niamh Carrigan, Emma Hayden, Ava Kelly, Olivia Kelly, Ted Duff (2nd 80M)
U9   – Ryan Kennedy
U10  – Tommy Carrigan, Orla O'Keeffe, Ted Kelsey, Jay Pollock, Daniel Carroll, Oscar Langton, May Timmons (1st 80M), Pearl Treacy, Abigail Hunt.
– Girls 200M Relay (2nd) – Orla, Pearl, Abigail, May.
– Boys 200M Relay (2nd) – Ted, Oscar, Tommy, Jay.
U11  – Ross Hutton, Seán Farrell, Matthew Deegan, Mia Kennedy, Daniel Greene (1st 80M, 2nd 300M)
U12  – Heidi Ryan, Aidan Corrigan, Aaron Carrigan (1st 700M), Emily O'Keeffe, MJ Carroll, Aisling Whelan, Laura Beatty, Ellis Beatty, Lucy Brennan, Milo Geraghty, Rory Treacy, Harry Greene
– Girls 200M Relay – Aisling, Heidi, Emily, Laura.
– Boys 200M Relay (3rd) – MJ, Aaron, Milo, Aidan.
– Boys 200M Relay – Harry, Daniel, Seán, Matthew, Ross.
U13  – Rachel Duff (2nd 100M), Eimear Cottrell, Evan Ryan, Anna Kelsey, Michael O'Keeffe, Stella Langton, David Timmons, Liam Treacy, Lucy Cunningham
U14  – Kate Hayden, Jack Gardiner (new PB in Shot Put), Matthew Duggan, Odhrán Prendergast (2nd U15 LJ)
– Girls 200M Relay – Kate, Eimear, Lucy, Rachel.
– Boys 200M Relay – Matthew, Odhrán, Evan, David, Michael.
U15  – Charlie Ryan (3rd U16 Shot Put), James Kelsey (2nd U16 HJ), Joseph Langton
U16  – Thomas Langton (1st HJ, 1st Shot Put)
– Boys 200M Relay (1st) – Thomas, James, Charlie, Joseph.
U17  – Rachel Gardiner (1st Shot Put)
Junior  – Maria Connolly