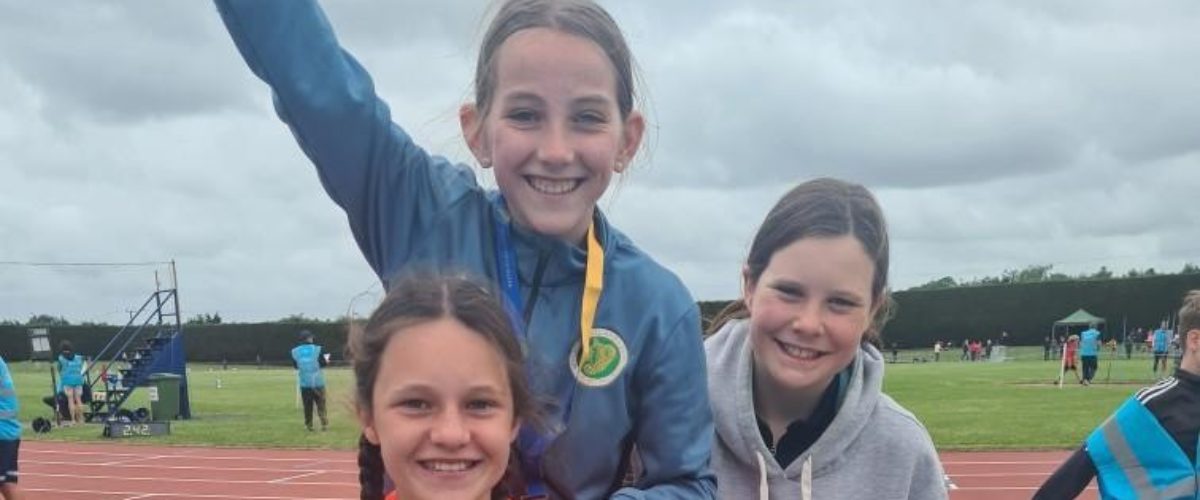 2022 Leinster Track & Field Day1
19th June 2022
What a start for Gowran athletes at the Leinster Juvenile track & field championships yesterday, 13 medals including 6 golds 🥇🥇🥇🥇🥇🥇, and with the first 4 in each event qualifying for the for the All-Irelands, we have 17 event qualifications.
Ailbhe Steger fresh from winning the Leinster Pentathlon, went and did a double in winning the U15 High Jump and Triple Jump, coming within 20cm of the Leinster record. What a season Ailbhe is having. Rachel Duff jumped 4.5M to win gold in the U13 long jump. Orla Brennan won gold in the U15 hammer, winning by just 5 cm. Andrew Cooper won gold in U17 hammer, while Robert Powell also won gold in the U17 discus. 
U13 Girls Long Jump – Rachel Duff – 1st
U13 Girls Javelin – Anna Kelsey 4th
U13 Boys Javelin – Darragh Carroll 3rd
U13 Boys Javelin – Evan Ryan 4th
U14 Girls High Jump – Aoibhlinn Steger 3rd
U14 Boys Long Jump – Odhran Prendergast 4th.
U14 Boys 80M- Odhran Prendergast, 3rd in heat 7th in final.
U15 Girls High Jump – Ailbhe Steger 1st
U15 Girls Triple Jump – Ailbhe Steger 1st
U15 Girls Hammer – Orla Brennan 1st
U15 Boys Javelin – Noah Denieffe 3rd
U15 Boys Pole Vault – James Kelsey 4th
U16 Girls Discus – Rachel Gardiner 2nd
U16 Girls Hammer – Rachel Gardiner 2nd
U16 Girls Pole Vault – Chloe Lynch 3rd
U16 Boys 100m – Darragh Dunne 2nd in heat in 12.20 secs, 3rd in final.
U17 Boys Hammer – Andrew Cooper 1st
U17 Boys Discus – Robert Powell 1st
There were other good performances too from Lucy Cunningham and David Timmins in Javelin, Jack Gardiner in Shot Put, Kate Hayden 1500M and Triple Jump, and Darragh Carroll in the Long Jump.
Also – Best of luck to Billy Coogan running for team Ireland today in France in the U18 2000m steeplechase.