FAQ's
Getting involved in athletics can be confusing. So to help we're putting together a list of questions we hear the most. If there is something you'd like to know or think would be helpful for others – drop us an email at info@gowranac.com
WHAT AGE CAN I JOIN GOWRAN AC?
We accept new members into our academy from ages 7 (born 2014) and upwards. Send an email to info@gowranac.com for more details or try out one of our training sessions to see if you might like to join.
WHEN AND WHERE DO YOU TRAIN?
Training Times 2021
WEDNESDAY – KILKENNY Watershed Track
7pm-8pm
U12+
FRIDAY – GOWRAN Racecourse (Driving Range)
6:30-7:30pm
U9 – U13
SUNDAY – GOWRAN Racecourse (Carpark)
10-11am
U8-U11
SUNDAY – KILKENNY Watershed Track
11-12am
U14 + and Seniors
_________________________________________________________
AGE GROUPS
U8 – 2014
U9 – 2013
U10 – 2012
U11 – 2011
U12 – 2010
U13 – 2009
U14 – 2008
U15 – 2007
U16 – 2006
U17 – 2005
U18 – 2004
I DON'T LIVE IN GOWRAN, CAN I JOIN?
We have members from a wide area including Kilkenny City, Clara, Paulstown, Gowran, Goresbridge, Skeoghvosteen, St. Mullins, Borris, Ballymurphy and Ballinkillen
WHAT EQUIPMENT/CLUB GEAR DO I NEED?
You will need the following for training: Members are expected to come to training properly attired. This means they should wear proper "running" runners (not fashion runners), shorts, leggings or light tracksuit bottoms, with a technical (poly-mix) t-shirt and a hoodie or something similar to wear before and after training. If it raining, a light rain jacket is very useful – but luckily our skin is waterproof 😉 We recommend bringing a water bottle too.
For competition: Cross Country Spikes. Cross-country races are run wearing running shoes called "spikes". These are lightweight runners that can be fitted with spikes that vary in size depending on the conditions but typically a 9-10mm spike is perfect for most cross-country conditions.  These can be purchased from Hennessy Sports in Newpark Shopping Centre. The same shoes can be used (after a clean!) for indoor or outdoor track and field, simply replace the longer spike with a shorter 4mm-5mm one.
Track & Field Spikes Track & Field spikes are the same as cross-country spikes, just use a shorter 4mm-5mm spike.
Gowran AC Singlet For those aged u9 and upwards, only official Gowran AC singlets can be worn in competition.
All club merchandise (jackets, hoodies, half zips, gear bags and scarves) available from
https://www.jfsports.ie/product-category/club-shop/gowran-ac/
Other equipment We can help source a range of training equipment for home use, such as TurboJav, Shots and Hurdles – just ask your coach.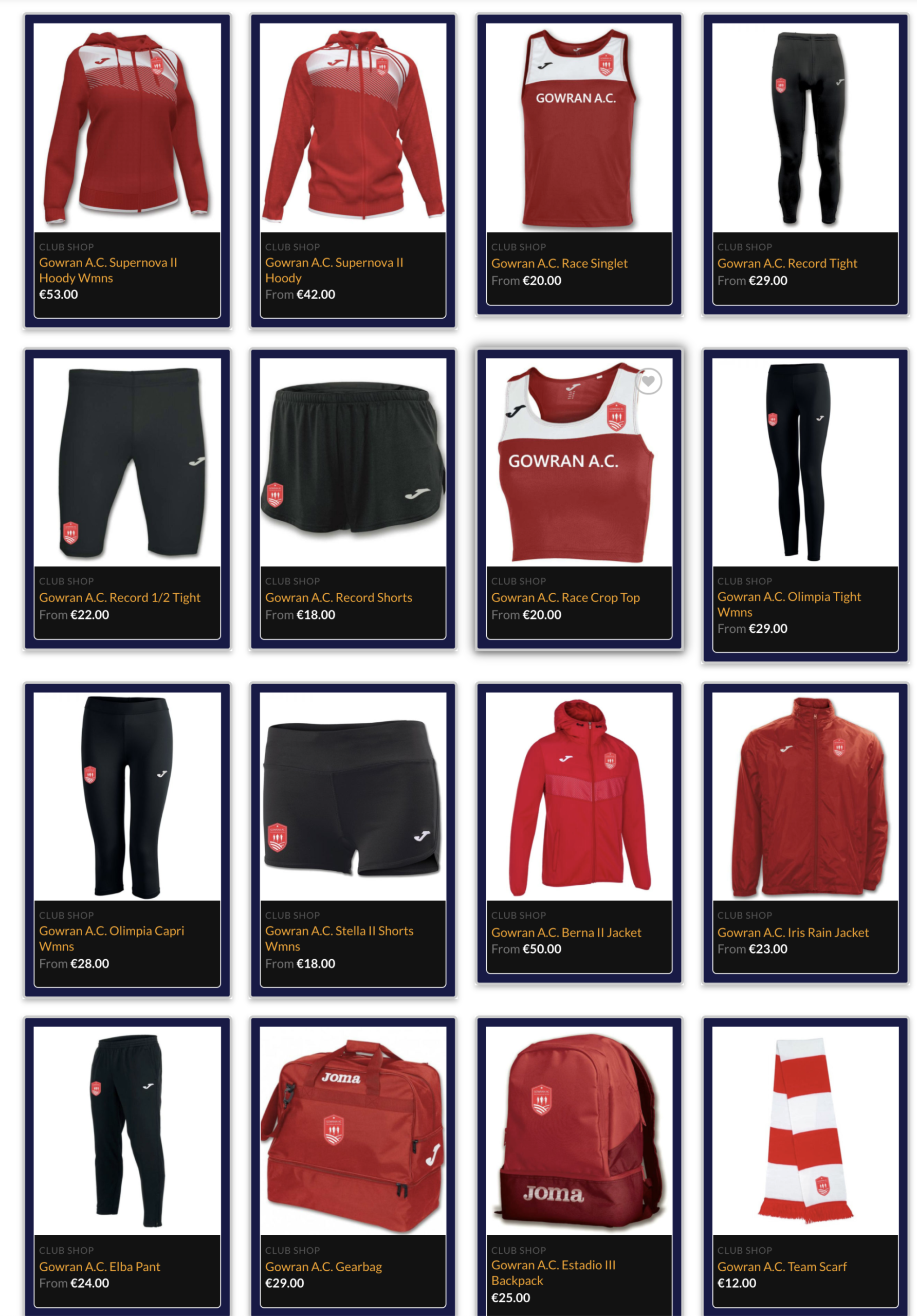 HOW DO THE AGEGROUPS WORK FOR 2021?
Athletes compete in under age groups based on their year of birth. So all kids born in the same year compete in the same race. In 2021, it works like this.
2014 – u8
2013 – u9
2012 – u10
2011 – u11
2010 – u12
2009 – u13
2008 – u14
2007 – u15
2006 – u16
2005 – u17
In general, in track and field competitions- athletes can only compete in their own age group. In cross country, athletes can compete in their own age group, this is called being in-age, and the next age group up, called out of age.
HOW DOES THE CLUB COMMUNICATE WITH ITS MEMBERS?
The club sends communication for juveniles through SPOND.
SPOND is an app used by the club to send and receive messages. It helps us to get messages out to all club members in a quick easy way. It's free to download.
Senior members message through Whats App.
I WOULD LIKE TO VOLUNTEER?
Wow, amazing and thanks so much in advance. We are always looking for volunteers. Send an email to info@gowranac.com outlining your special talent (website design, photographer, grant-application-form-filler, great tea-maker, marquee-set up etc). There is a job for everyone and we always need the help!
HOW CAN I REGISTER TO JOIN?
HAVE YOU ANY ATHLETICS RESOURCES TO USE AT HOME?