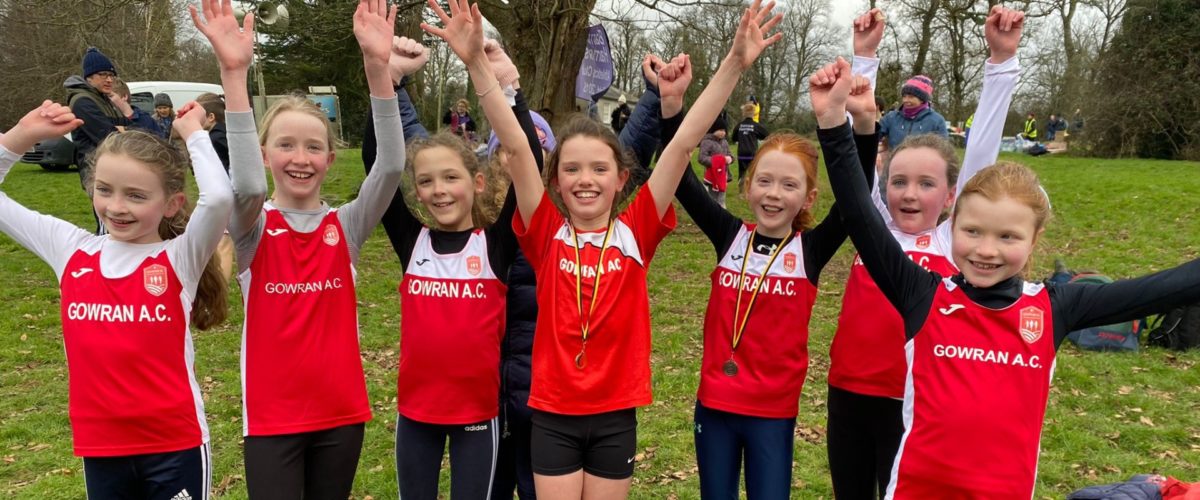 2021 County B Championships – Graiguenamanagh 23-Jan-2022
23rd January 2022
The County Intermediate and Juvenile 'B' Uneven Ages County Championships were held today 23-Jan-22 at Graiguenamanagh. Gowran had a great turnout with 54 Gowran athletes competing from U7 to Intermediate, and were the top performing juvenile club competing today. There were some great individual and team performances including a double double in the U11's, where Gowran won the Girls and Boys races but also were the first and second teams home in both. In the Intermediate women's race, Katie O'Brien ran superb to come home 2nd in a high calibre field. The Gowran men's team came home an excellent 3rd. Results and photos below:
Under 7 (200M)
Girls:
4 Olivia Kelly
8 Emma Hayden
Boys:
3 Egan Brennan
4 Luke Brennan
6 Brian Carroll
Under 9 (400M)
Girls:
2 Mai Timmons
6 Orla O'Keeffe
7 Sarah Mulrooney
13 Niamh Carrigan
15 Ava Kelly
21 Mai Magnin
23 Emma Hayden
Boys:
3 Tommy Carrigan
6 Daniel Carroll
8 Eli Hayes
14 Cian Larkin
15 Sam Hogan
16 Ted Kelsey
20 Jay Pollock
22 Niall Doyle
24 Jack Dunphy
Under 11 (600M)
Girls
1 Heidi Ryan
3 Mia Kennedy
5 Kate Mulrooney
7 Lauren Larkin
8 Laura Beatty
9 Eimear O'Callaghan
11 Lucy Brennan
15 Shona Brennan
16 Eliza Kavanagh
TEAMS: Gowran 1st and 2nd
Boys:
1 MJ Carroll
5 Aidan Corrigan
7 Bobby Coomey
9 David Carroll
11 Jamie Phelan
12 Oisin Doyle
15 Ned Og Kelly
16 John Joyce
TEAMS: Gowran 1st and 2nd
Under 13 (1000M)
Girls
19 Eve Duggan
21 Lucy Cunnigham
22 Grace Roberts
TEAMS: Gowran 7th
Boys
3 Darragh Carroll
5 Luke Kelly
6 Matthew Duggan
TEAMS: Gowran 1st
Under 15 (1500M)
Boys
7 Charlie Ryan
Intermediate Women (3000M)
2 Kate O'Brien
6 Helen Horan
10 Ann Brennan
Super performance by Kate to come 2nd in a very high calibre field
Intermediate Men (8000M)
4 Ray Lahart
9 John Coady
15 Colin Pollock
20 Bill Lahart
21 Paul Flood
27 Matt Ryan
TEAMS: Gowran 3rd – Excellent result
Overall in Cross-Country Senior Shield, Gowran AC finished 3rd club to St Josephs and Thomastown- well done all involved and in particular the coaching team led by Mick Walsh and Niall Sheehan.