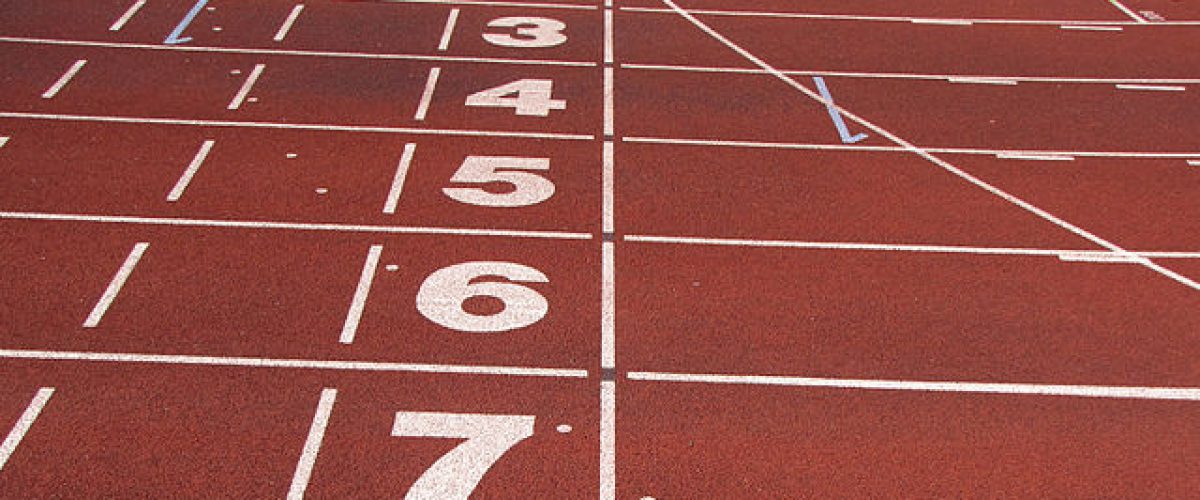 June 2021 Newsletter
10th June 2021
Dear Members,
On the 5th of June Athletics Ireland published the latest Club Return to Activity Protocols. Pods of 15 are still required at training events and a maximum of 100 at outdoor competitions including athletes, officials, and coaches. Select the link for the full latest covid updates from Athletics Ireland.
In training, all our age groups have been working on their fitness and flexibility. Many age groups have started to introduce field events. The U9-11have included Long Jump and Turbo in their sessions. U12-13 have included Long Jump, Hurdles, Turbo/Javelin and High Jump. U14-U18 have worked on Shot, Javelin, Discus, High Jump and Long Jump. They also had a session with Irish Pole vaulter Michael Bowler at training Wednesday night.
Thank you to everyone who is following the Covid Requirements of Accepting the training invite and Completing the Covid Health Form before training. We ask that ALL Members continue to do this so that we can continue to have training safely.
New members must download Spond so that they receive training requests and club information. We have a HOW-TO connect to SPOND on our website. We also recommend that Members check the website for News and Club Information including Training Times, Age Categories, Club Merchandise, Fixtures, and more! We continually try to make sure that members are well-informed. If there is an area that you think we could explain better then send us an email at info@gowranac.com.
Congratulations to Mary Fitzgerald for coming 3rd in the shot putt at the European Paralympics Championships in Poland at the start of June.
Best of luck to all the athletes competing this month.
JUVENILES
County Track and Field Championships U14-U19
The first day of the County Championships, organised by the County Athletics Board, takes place this Sunday 13th June at Scanlon Park, Kilkenny. Competition is for U14-U19, Junior and Masters O40. See the list of events below. Currently, due to guidelines for outdoor sporting events it is not possible to have competition just yet for younger athletes but the County Board are hoping to have competition for younger ages when possible.
Please note the following:
Entries to Dave, Simon or Adrian
Club singlets and 5mm spikes
Athletes must be registered with Athletics Ireland for 2021
Throws: u19s throw u18 weights
u17s and u19s can also compete in senior events.
NO SPECTATORS but u14, u15, u16, and u17 athletes may be accompanied by ONE parent. No exceptions to this rule.
All those attending must complete the COVID declaration prior to attending.
No warming up on the track – please use outside areas.
Once your event is over – you are expected to leave the track.
COUNTY KILKENNY FIXTURE UPDATE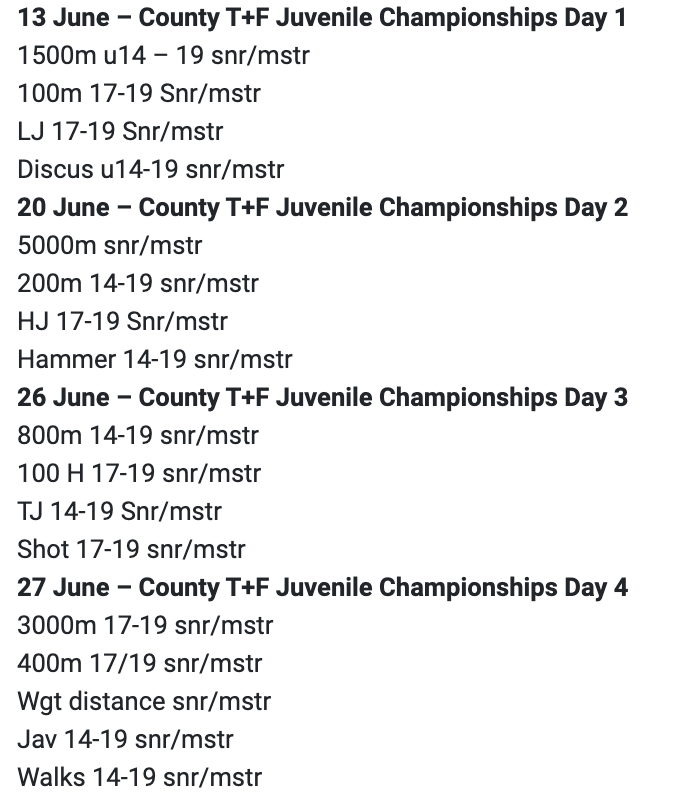 LEINSTER FIXTURE UPDATE
From Facebook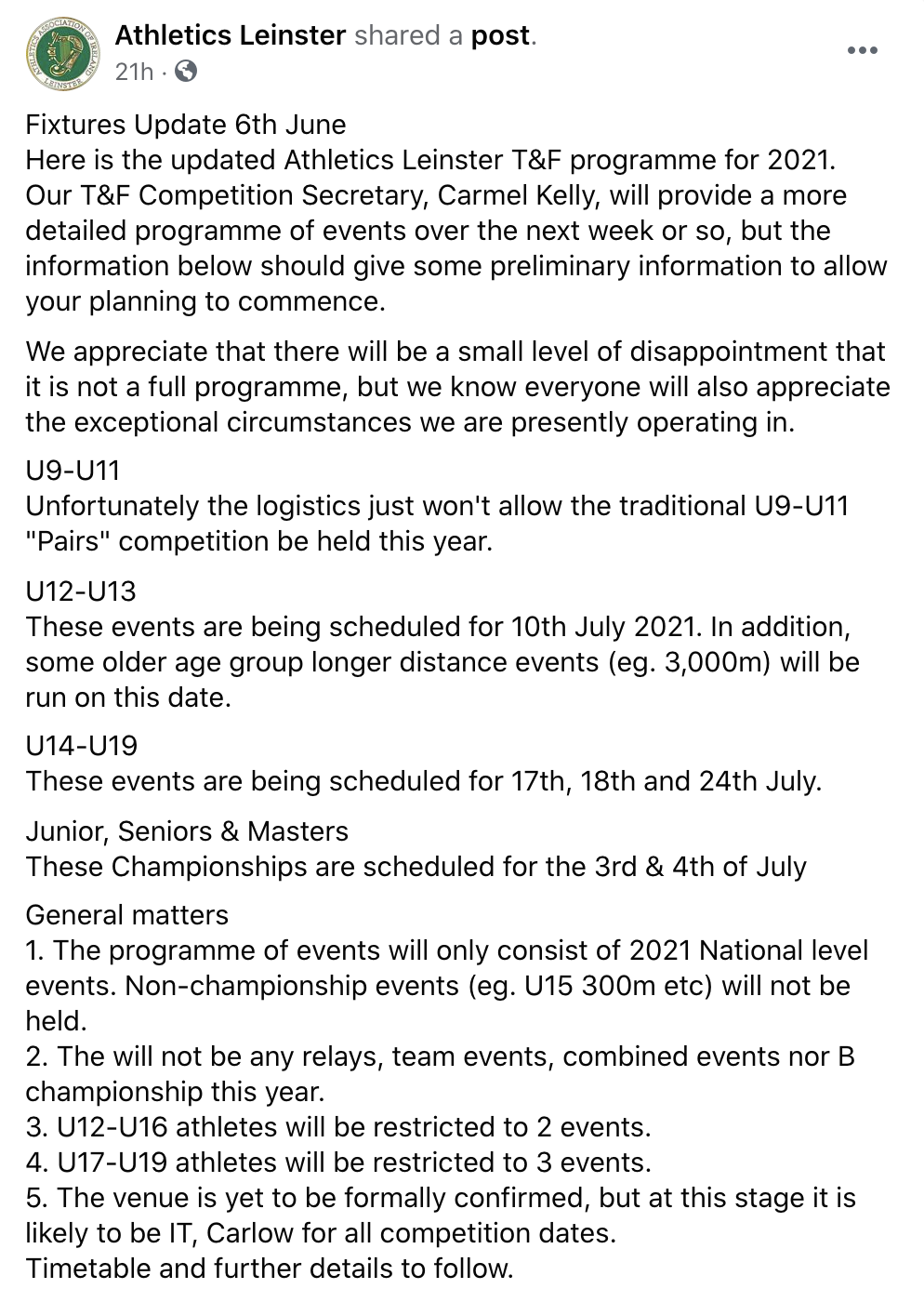 COACHES
Shane Aston (Regional Development Officer and Jump Specialist) and David Denieffe (Throw Specialist) have been working with our coaches over the last two weeks to develop skills in specialist areas such as High Jump/Long jump and Shot/Javelin/Discus/Hammer.
SOCIAL MEMBERS
Thursday Night Running
This group is for casual runners. You are welcome to join in and run whatever distance you want.
All welcome! Please share with your friends.
Day: Thursdays
Time: 8-9pm
Location: Applegreen, Paulstown
Age: 18+
Cost: €30 if not a club members
---
RECENT LINKS
Competition Information 2021
Fixtures 2021
Ordering Equipment 2021
JUVENILE  PADLET RESOURCES
Age 12-18
Age 7-11 
WEBSITE LINKS
Training Times and Age Categories
Policies and Documents
CLUB Merchandise
SPOND
Newsletter
Athletics Resources