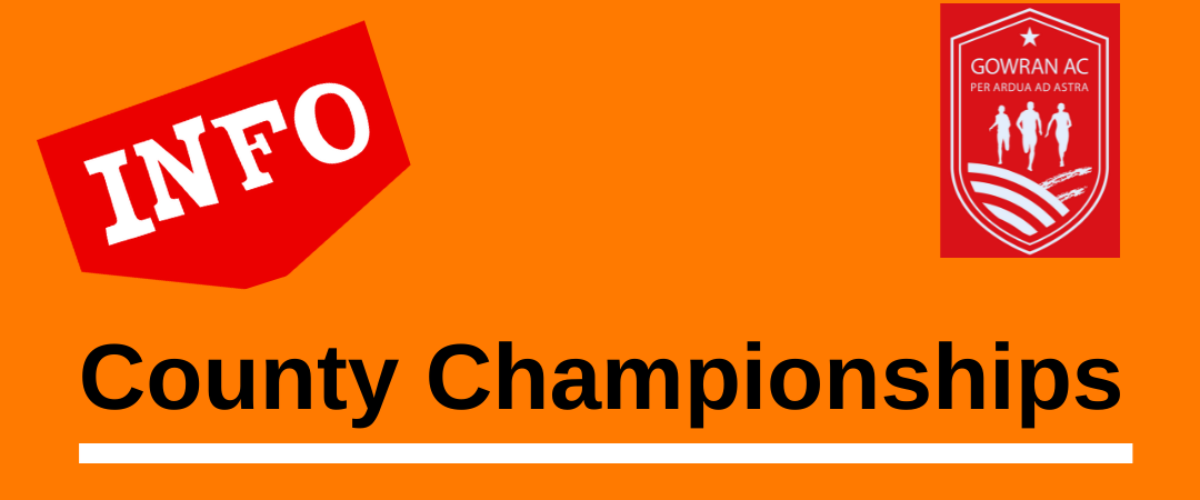 COUNTY SENIOR 2020 + JUVENILE RELAYS 2021
20th September 2021
JUVENILE RELAYS -11AM
Venue: Conahy
Eircode: R95 RW3K
The Cross-Country Relays are on in Conahy for 2021. The relays are very important as they are the start of the cross country season. Also points accumulated count towards the overall juvenile Cross Country shield which we won in 2018 and we came 2nd in 2019. We are hoping to start the season strong so bring on the red!
For the Cross-Country Relays (U11-17), there are 3 on a team. The distances and ages are below.
Athletes may move up one age group. (For example, u10 athletes run u11)
All athletes will be on a team and will have a race.
Teams will be selected in advance so reply on SPOND with ACCEPT and add the child/children name(s) with their age group.
U7 and U9 have a non-championship race (no relays). The distance is usually short 250-600m. It will be confirmed on the day.
RELAYS
U11 250m X3
U13 250m X3
U15 500m X3
U17 500m X3
AGE GROUPS
U7 – 2015
U9 – 2013 and 2014
U11 – 2011 and 2012
U13 – 2009 and 2010
U15 – 2007 and 2008
U17 – 2005 and 2006
---
COUNTY SENIORS -12 NOON
This is the 2020 Cross Country Championships and ages are based on 2020 ages. Athletes must be born in 2003 or earlier to compete in this event.
Distances: Men 10,000m, Ladies 4.000m
Categories: A and B
Team: 4 to score for A and 4 to score for B
It is the responsibility of each club to enter their athletes in the relevant category.
Any club wishing to enter a team in the 'B' section must declare the team by submitting the team names IN WRITING to the County Secretary before the start of the race. Any athlete not entered as 'B' section will be categorised in the 'A' section.
It is the responsibility of each club to ensure that their athletes understand this ruling.
Map