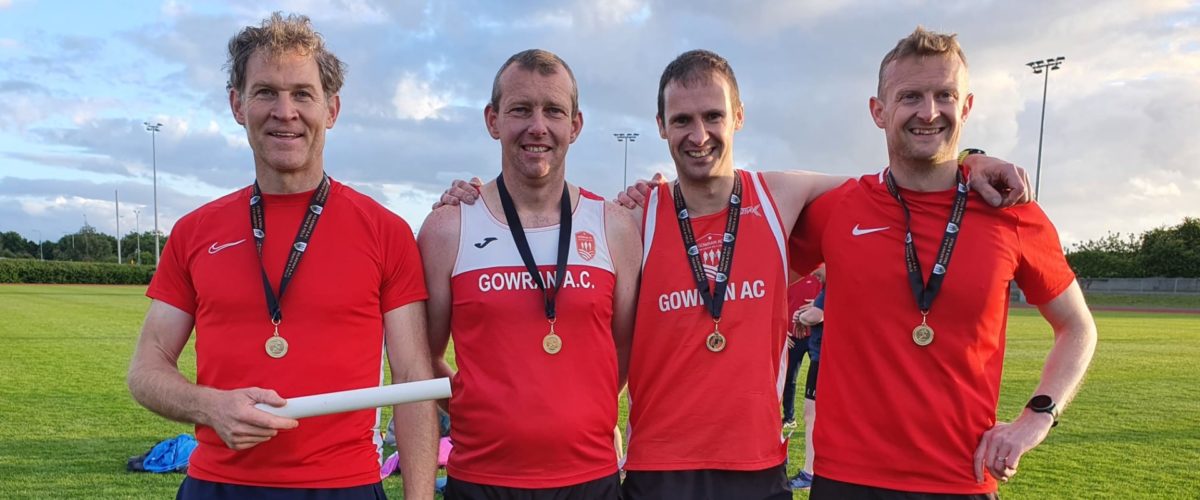 2022 Day 6 – KK County Track & Field
12th June 2022
Friday was day 6 of the Kilkenny County 2022 Track & Field championships, the seniors day out. For Gowran it was a chance for some of the coaches to put their most recent Athletics Ireland coaching qualifications to the test. Marie Deegan kept her recent good form going with a 4 medal haul, including a gutsy finish in the 200M to stay 3rd. Adrian Cunningham matched Marie with a 4 medal haul. Ice cool Adrian showed he can mix the slow and fast twitching muscles by medaling in the 3000M and 100M, some feat. Tom Corrigan completed a clean sweep in Senior this year by adding the 100M and 200M to his 400M from a few weeks ago. Tom retains his county senior track shield as a result. Tom didn't stop there, he won the long jump and triple jump too, and adding the two relay medals he won, that made it 6 Gold medals on Friday. John Leamy thought Tom shouldn't have to do it all with his own 8 medal haul, these two will surely have to race it out over 50M at the Gowran AC Awards night on June 24th.
In the 3000M Dean Rowe ran a brilliant senior race to finish 2nd in a large field, as did Matthew Holland in the juniors. Bill Lahart didn't let a tugged hamstring get to him, by winning the senior 110 Metre hurdles.
The relay quartet of Tom Corrigan, Adrian Cunningham, Matthew Ryan and John Leamy completed a gold relay double in the 100M and 400M relays.
2022 COUNTY SENIORS
Ladies
200m: Senior 3 Marie Deegan (G),
100m: Novice 1 Marie Deegan (G)
Long Jump: Senior 3 Marie Deegan (G),
Weight for Distance: Senior 1 Marie Deegan (G)
Men
3000m: Senior 2 Dean Rowe (G)
3000m: Junior 2 Matthew Holland (G)
3000m: o/40 3 Adrian Cunningham (G)
110mH: Senior 1 Bill Lahart (G) 2 John Leamy (G)
200m: Senior 1 Tom Corrigan (G)
200m: o/45 1 John Leamy (G)
100m: Senior 1 Tom Corrigan (G)
100m: o/35 1 John Leamy 3 Adrian Cunningham
4x100m Relay: Senior 1 Gowran (Matthew Ryan, Adrian Cunningham, Tom Corrigan, John Leamy)
4x400m Relay: Senior 1 Gowran (Tom Corrigan, Matthew Ryan, John Leamy, Adrian Cunningham)
Long Jump: Senior 1 Tom Corrigan (G)
Long Jump: o/45 1 John Leamy
Shot Put: o/45 2 John Leamy (G)
Weight for Distance: Boys u16 1 Noah Denieffe (G)
Triple Jump:  Senior 1 Tom Corrigan (G), 3 John Leamy (G)