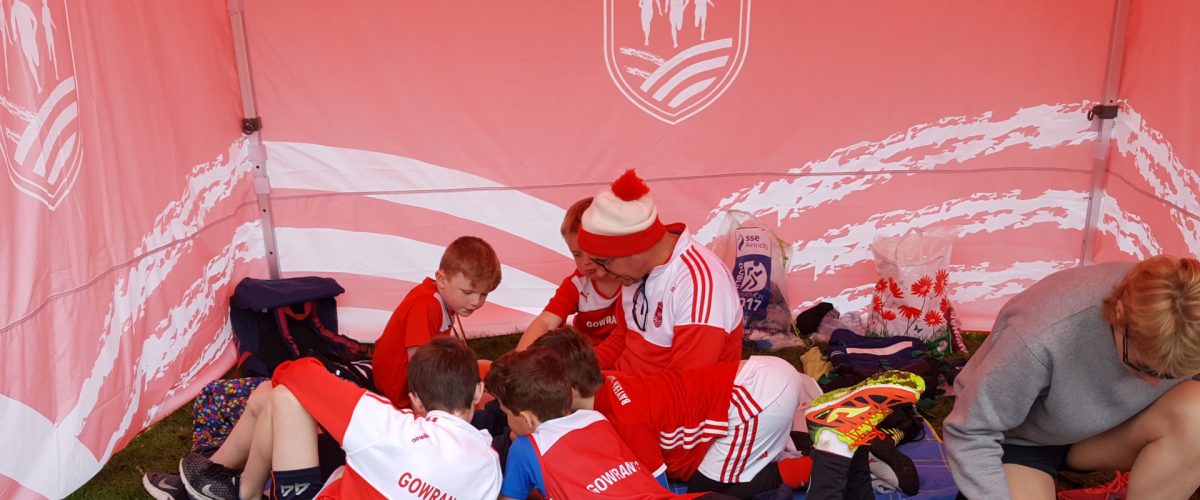 Weekend Roundup 4th November 2018
5th November 2018
Senior Cross Country County Championships and Juvenile B Even age
With the new Gowran AC marquee set up in the center of the field there is no question as to where to meet. It took a team to set it up and this was the start of great team effort today. Having a dry place to change after the race, shelter from the cold & rain or write up results is such a welcome comfort. But with the beautiful autumn day in Kilmacow, most club members and parents spent the morning on the course cheering on our athletes. Well done to all on a great morning.
SENIORS
Well done to our Senior runners yesterday competing in the Senior Cross Country County Championships in Kilmacow. 2nd place in the men's 10,000m went to Niall Sheehan. It was Dean Rowe and Shane Noonan's first time to compete in this County Senior race and they both placed well up the field. College student, Cormac Buggy followed suit keeping it steady finishing in 11th, the exact same position as last year. Our Club team came 2nd, just three points short of 1st place.
The women's race equally had a large field of 32. Catriona Corr was our 1st lady home in 9th position. Catriona ran a steady race and successfully powered home to hold off KCH on her heels. Despite running Dublin City marathon last weekend Claire McDonald ran a superb debut Cross Country race. Reliable club runners Kathryn and Siobhan put in a mighty effort throughout the 4000m. The standard was very high and unfortunately they just missed out on the medals coming 4th Club team.
Senior Men 10,000m – 2nd Club Team
2nd Niall Sheehan
4th Dean Rowe
10th Shane Noonan
11th Cormac Buggy
Senior Women 4,000m– 4th Club Team
9th Catriona Corr
17th Kathryn Kennedy
25th Claire McDonald
27th Siobhan O'Dwyer
JUVENILES
The juveniles were also out in great form for the County B Even age.
U8 Girls
5th Heidi Ryan
With 18 girls in this race Heidi started well and worked her way up through the field finishing in 5th place.
U8 Boys
1st Aaron Carrigan
4th MJ Carroll
9th Aidan Corrigan
13th Aidan Malone
22 Boys started in this race and Aaron started on the inside and got out first on the whistle. He kept to the front and battled hard with Barrow Harriers and KCH to win first place. MJ and the 2 Aidans all ran well to come well placed in the top 13.
U10 Girls
1st Team
1st Kate Hayden
8th Kathy Phelan
10th Aisling O'Neill
12th Abbie Cunningham
29th Lucy Cunningham
U10 girls was a big field of 37 but Kate immediately took to the front for this 500m and never took her eye off the finish line. Kate won with a strong lead. Kathy, Aisling and Abbie all ran well and finished in the top 12 earning the team gold.
U10 Boys
1st Team
2nd Evan Ryan
6th Odhrán Prendergast
13th Conor Malone
22nd Dylan Drennan
Seeing Kate's win in the earlier race, the boys U10 had high hopes for the same. In a field of 30, Evan and Odhrán both made it to the first bend with the lead bunch. Evan made his way to the front and took the lead with 150m to go but got passed by KCH coming up the hill to the finishing shoot. Odhrán, Conor and Dylan all ran well too to get the team 1st place.
U12 Girls
15th Alice Hatton
22nd Molly Lynch
U12 Girls race jumped to 1000m which was two laps of the course. Alice and Molly ran their very best and finished well in the field of 27. Unfortunately the girls had no team and most of the others Gowran AC girls were not eligible to run.
U12 Boys
2nd & 3rd team
5th Ben Drennan
7th Charlie Ryan
8th James Kelsey
9th Liam O'Dwyer
10th Ruairi Phelan
13th Noah Denieffe
U12 Boys started fast with St Josephs stretching the field out. Strong performance from all the Gowran boys with Ben first home in 5th. The boys were happy with 2nd and 3rd team medals.
U14 Girls
5th Maria Connolly
Maria ran a great race coming 5th out of 10 and looked strong finishing the 1500m.
U14 Boys
1st Luke Phelan
Luke was the only boy in his race so he ran with the U16 boys which was a great training session for him.
U16 Girls
1st Pia Grady
New club member Pia had only 3 in her 2000m race but she led the field and won with ease.
U16 Boys
1st Team
4th David Byrne
5th Adam Ryan
6th Diego Rodiguez
David, Adam and Diego had a great race today in their 2000m, showing a big improvement on fitness and strength. They won first team for their great efforts.
Photos Go to Flickr