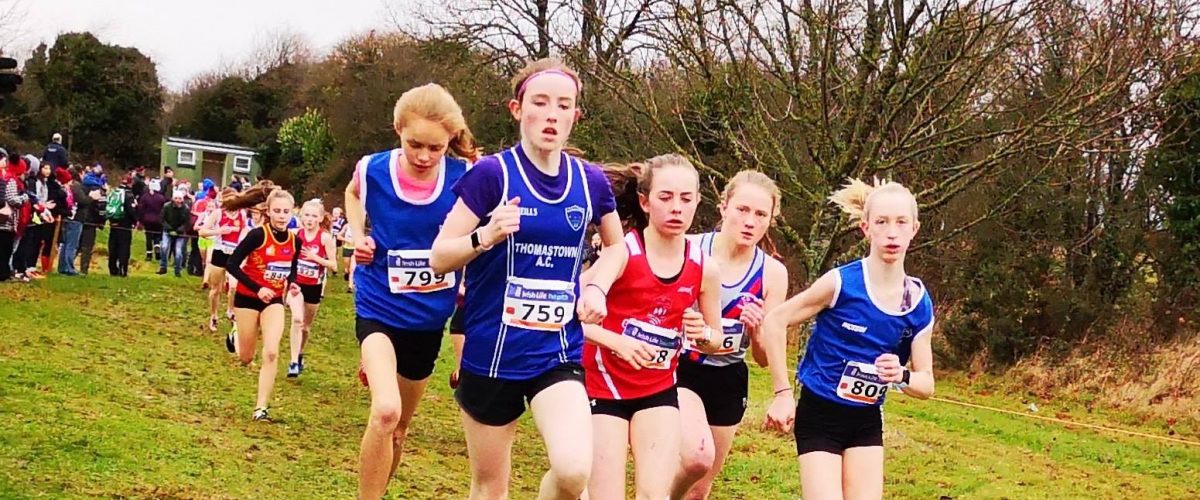 Weekend Roundup 15th December 2018
15th December 2018
The National Cross County for Uneven ages was held Navan. 22 athletes set off to Navan today. The Racecourse in Navan is tough with a hill start, a series of sharp bends and a 100m hill on the home stretch to the finish. But the U11s felt the course was handy compared to last year's mucky Nationals in Galway with snowstorms. Storm Deirdre orange warnings for the afternoon had everyone anxious to get the races over before the heavy rain and gale force winds hit the country.
Well done to all the athletes competing, participating in the Nationals is such a big achievement. Races had up to 180 athletes, the top athletes from the counties and provincials. The competition is tough and it comes with lots of pushing, shoving, falling and tears. But it also comes with great personal performances and individual satisfaction. Hats (woolly ones!) off to anyone who gets the chance to participate and survives to become club legends.
Highlights today included Hannah Kehoe in the girls U15 who took to the lead on the home stretch and pulled away from the chasing group. Emma Landers (Youghal) produced a last gasp surge on the uphill finishing straight to catch Hannah a short distance from the finish. Silver for Hannah. Hannah was also part of the Leinster team which came 1st. Amazing achievement to come home with 2 National Medals. In the Boys U15, Billy Coogan ran a very steady race and finished strong moving through the pack from 30th to finish in 23rd. Billy was the 4th Kilkenny boy home and the county team came 3rd. Bronze for Billy!
We had 3 Novice athletes participating, Katie O'Brien, Dean Rowe and Johann Muller. Katie's first national competition and she did well to finish 108 in a field of 151. In the Men's Novice a huge field of 254. Dean came 62nd and Johann 201st. Both were on the county team which came 12th.
Athletics Ireland Race Report and Full Results
Gowran Club Results:
U11 GIRLS – 1500m
70 Orla Brennan
112 Lucy Coomey
118 Eve Doyle
145 Ailbhe Steger
146 Eimear Brennan
152 Kate Hayden
16th Club Team
U11 BOYS – 1500m
44 Tom Kehoe*
46 Conor Carroll*
97 Tomas Carroll*
124 David Magee
147 Sam McAviney
*6th County Team
12th Club Team
U13 GIRLS – 2500m
53 Ruth Fogarty
79 Rachel O'Neill *
80 Hazel Coogan
128 Alexandra Brennan
Sarah Kehoe (DNF)
*4th County Team
15th Club Team
U15 BOYS – 3500m
23 Billy Coogan*
*3rd County Team
U15 GIRLS – 3500m
2 Hannah Kehoe*
*1st Leinster Team
U17 BOYS – 5000m
30 Brogan McAviney*
*7th County Team
NOVICE WOMEN (4000m)
108 Katie O'Brien
NOVICE MEN (6000m)
62 Dean Rowe
201 Johann  Muller