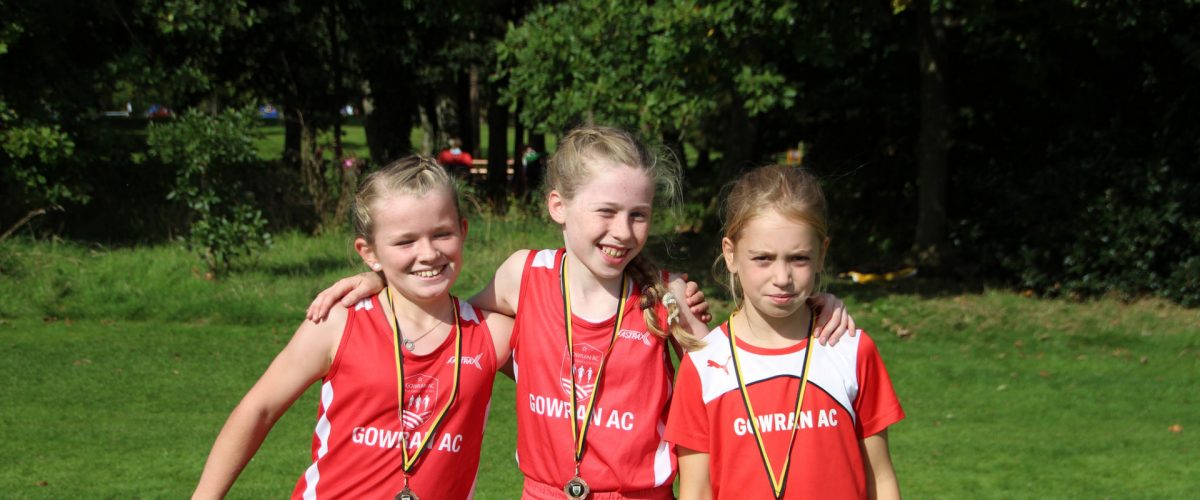 Weekend Roundup 15th and 16th of September 2018
19th September 2018
SATURDAY- MEDIEVAL MARATHON
Great day at Medieval Marathon in Kilkenny for Gowran AC.
In the Marathon
Darren Evans 3:17
Simon Maher 4:17
In the 30k
Pat Lennon 2:52, Mick Walsh and James Delehanty 3:02,
In the 10k
Eamon Kelsey 55.39, Deirdre Kelsey, Loraine Carroll and Paula Carroll 1:03
SUNDAY – COUNTY SHORT COURSE in the Castle Park, Kilkenny.
SENIOR MEN 4k – 1st Team
2. Niall Sheehan, 3. Dean Rowe, 5. Mick Kelly, 6. Derek Kehoe, 7. Lyndon Barcoe, 8. Cormac Buggy
COUNTY XC RELAYS in the Castle Park, Kilkenny.
U7 GIRLS
1.Mia Kennedy 3. Kate Langton 4. Emma O'Connor 6. Maebh Farrell
U7 BOYS
7. Dylan McGee 8. Sean Carroll 9. Ted Kelsey 11. Danny Comerford 12. Bobby Coomey 14. Daniel Carroll
U9 GIRLS
36 in the race
2. Holly Bolger 10. Niamh Brennan 11. Lauren Phelan 12. Orlaith Carroll 14. Anna Kelsey 19. Aoife Brennan 21. Emily O'Keffee 22. Heidi Ryan 23. Aisling O'Neill 24. Jane O'Connor 28. Daisy Coomey
U9 BOYS
31 in the race
1. Robert Coogan 2. David Timmins 5. Sam Corr 6. Evan Ryan 7. Darragh Carroll 8. MJ Carroll 15. Liam Treacy 17. Dylan Drennan 18. Gearoid Farrell 20. Rory Treacy 21. Micheal Langton 22. Charlie Gardiner 25. Aidan Malone 26. David Carroll 31 Noah Comerford
U11 GIRLS RELAY
18 teams
3rd – Kate Hayden, Orlaith Brennan. Eimear Brennan
9th – Mixed team: Niamh Brennan (G), Holly Drennan (G) and Thomastown
10th – Lucy Coomey, Molly Lynch, Kathy Phelan,
11th – Ailish Keating, Eve Doyle, Ceola Leamy
U11 BOYS RELAY
10 teams
1st – Odhrán Prendergast, David McGee, Aidan Keating
2nd – Charlie Ryan, Tómas Carroll, Tom Kehoe
3rd – Conor Carroll, James Kelsey, Sam McAviney
8th – Noah Denieffe, Conor Malone, Eabhan Kehoe
9th – Thomas Hayden, Oisin, Daniel Corbett
U13 GIRLS RELAY
7 teams
3rd – Hazel Coogan, Alex Brennan, Rachel O'Neill
5th – Roisin Brennan, Emily Maley, Orlaith Brennan
7th – Chloe Lynch, Rachel Gardiner, Molly Nolan
U13 BOYS RELAY
5 teams
3rd – Liam O'Dwyer, Darragh Dunne, Erin Doyle
4th – Ruairi Phelan, Matthew McAviney, Ben Drennan
U15 GIRLS RELAY
3rd – Emma Corr, Catie Maley, Maria Connolly
U15 BOYS RELAY
1st Billy Coogan, Cillian Dunne, Darragh Nolan
U17 GIRLS RELAY
2nd Elizabeth Maley, Eve O'Dwyer, Robyn Denieffe
OVERALL RELAY RESULTS
Gowran 15
St. Josephs 9
KCH 7
Thomastown 5
Barrow Harriers 2
Photos thanks to Ursula Brennan
SUNDAY- JJ REDDY DANESFORT
5k – Caitriona Corr 22.50
10k  Anthony Coomey 54.15
Half marathon
Kathryn Kennedy at 1:39:16 (6th Lady Home)
Joe Treacy 1:39:33
Emma Tobin 1:57:54