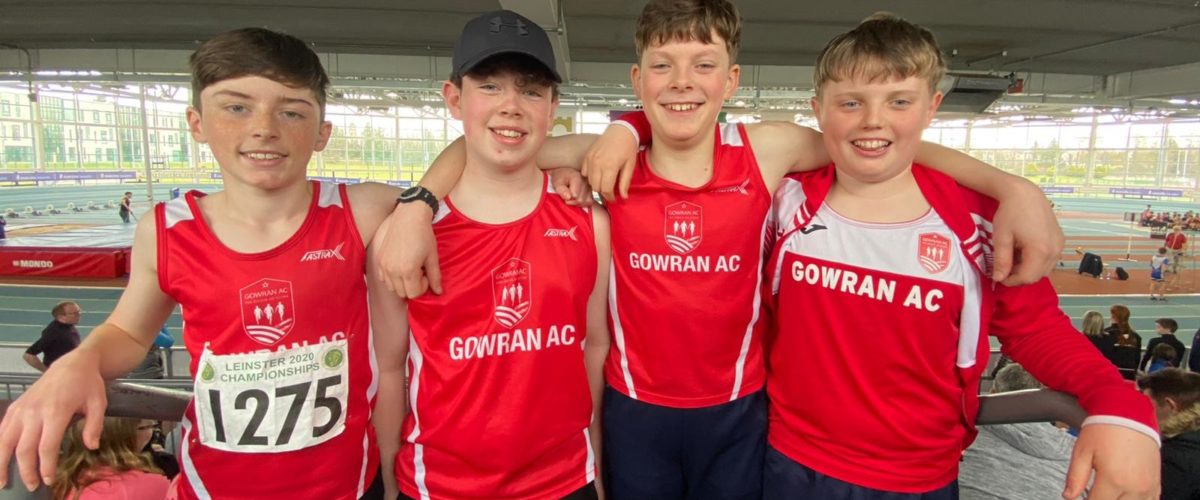 Leinster Indoor 2022 Juvenile day 3, Schools XC
19th March 2022
Results from the weekend. Gowran had 3 teams competing in the Leinster indoor relays. The girls U12 team came 3rd in their heat. The boys U13 team came 2nd in their heat to qualify for the final, where they finished 4th, just 0.2 seconds from a medal. The boys U15 team finished 4th in the straight final.
In the Shot Putt, Aileen Trait came 11th in the girls U17. In the triple jump, Charlie Ryan came 1st in the boys U15, and Odhrán Prendergast came 2nd in the boys U14. While Darragh Nolan making a return to high jump finished 2nd in the boys U18 with a jump of 1.65M. Well done all.
At the All-Ireland cross country schools finals in Belfast, Gowran athletes were representing four different city secondary schools. Lucy Comey ran for Presentation school, Tómas Carroll for St. Kieran's, Hazel Coogan for Loreto, and Billy Coogan for CBS. Billy finished 9th which qualifies him for to represent Ireland in Swansea next week.
The previous weekend at the 2022 Irish University (IUAA) CROSS COUNTRY, Ruth Kennedy was third home for her DCU team that finished 2nd overall. It completes a great cross country season for Ruth, which included an U23 victory in the Leinster's.
U12 girls relay team, 3rd in heats.
Heidi Ryan
Kate Mulrooney
Laura Beatty
Emily O Keeffe
U13 Boys relay team, 2nd in heats, and 4th in the final.
David Timmins
Evan Ryan
Aaron Carrigan
Darragh Carroll
U15 Boys relay team, 4th in straight final.
Noah Denieffe
James Kelsey
Charlie Ryan
Odhrán Prendergast