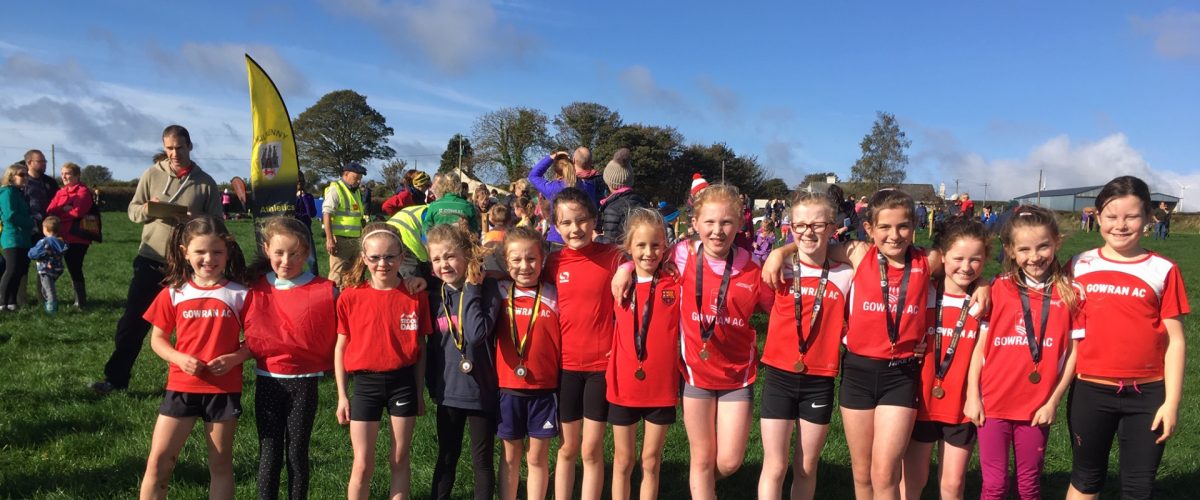 Weekend Results 5th-6th October
7th October 2019
County XC Even ages and O40s -Ballycurran
SUMMARY
5 top 3 Medalists

GOLD: Robert Coogan, Sarah Kehoe
SILVER: Evan Ryan, Conor Carroll
BRONZE: Kate Hayden
4th Place: Lucy Coomey, Billy Coogan, Ruth Fogarty, Derek Kehoe
9 Club Team Prizes
GOLD U10 Boys, U12 Boys, U14 Girls
SILVER U10 Girls, U16 Boys, O40 Women, O40 Men
BRONZE U12 Girls, U14 Boys
A great turnout for Gowran in Ballycurran on Sunday 6th with 81 athletes turning up to participate. Everyone expected a very wet, mucky field after the ferocious weather hammered on the country by Storm Lorenzo but the ground was grassy, soft and perfect for cross country. Gowran athletes took to the field eager to run for themselves and their teams.
NON CHAMPIONSHIP RACES
In the U8 Girls, May Timmins up in age from U7 came 3rd in the first race of the day followed by Kate Langton in 9th.
The U8 Boys, ran steady races coming 8th for Patrick Drennan, 9th for Ted Kelsey and 11th for Bobby Coomey. All athletes got a medal and big cheers from the onlooking parents and coaches. Well done to all.
CHAMPIONSHIP RACES
The Juvenile Championship is the big event with teams competing for points for their clubs and individuals hoping to get a place on county teams. Coming in to the competition Gowran were slightly ahead in the points and although having a fantastic day we are now just 0.5 points behind St.Senans. Gowran individuals won 2 golds, 2 silver and 1 bronze. In the teams we won 3 Golds, 2 Silver and 2 Bronze. So in total for the Juvenile Championships Gowran came home with a whopping 40 medals. All athletes that finish in the top 12 from U12 to U18 will represent Kilkenny as part of the county team in the Leinster Cross Country which is held in Gowran on the 26th of October.
In the U10 Girls, we had 11 girls participate with Orlaith Carroll sticking with the leading bunch from the start and finishing 8th. Followed by fast finishers Holly Drennan, Rachel Duff and Lauren Phelan in 9th, 10th and 11th which secured 2nd place team. Emily O'Keffee although up in age from U9 finished closely behind in 13th.
8 Orlaith Carroll, 9 Holly Drennan, 10 Rachel Duff, 11 Lauren Phelan, 12 Niamh Brennan, 13 Emily O'Keefe, 17 Aisling O'Neill, 18 Anna Kelsey, 28 Daisy Coomey, 29 Emilia Fox, 30 Heidi Ryan
We had similar numbers in the boys u10, with Evan Ryan and Robert Coogan getting out fast. Following a fall from a St, Josephs athlete, Evan took the lead and powered up the hill with team mate Robert in hot pursuit. On the home straight Robert surged to pass Evan in a battle to the shoot with Robert getting through in 1st and Evan 2nd. David Timmins 7th and Darragh Carroll in 8th completed the team and they won the 1st place team.
1 Robert Coogan, 2 Evan Ryan, 7 David Timmons, 8 Darragh Carroll, 12 Dara Leamy, 16 Cathal Bennett ,17 Matthew Cooke, 20 Dylan Drennan, 22 David Carroll, 28 Rory Hayden
U12 Girls saw Lucy Coomey and our U11 athlete Kate Hayden run steady with the lead group in this 1500m. Kate fought hard to the finish and won the 3rd place and Lucy was a close 4th. Orlaith Brennan and Alibhe Steger completed the team which came 3rd overall.
3 Kate Hayden, 4 Lucy Coomey, 17 Orla Brennan, 20 Ailbhe Steiger, 25 Kathy Phelan, 26 Danika Vit-Ter Krueger, 27 Ceola Leamy
In the boys U12, also up in age from U11 Conor Carroll ran a great race against tough competition from St. Josephs and St. Senans. Conor finished in a comfortable 3rd with James Kelsey in 5th, Adam Joyce in 9th and Tomas Carroll in 10th. The team came 1st and our 2nd team came 4th with a small margin.
3 Conor Carroll, 5 James Kelsey, 9 Adam Joyce, 10 Tomas Carroll, 11 Tom Kehoe, 13 Joseph Langton, 20 Ross Murray, 22 Charlie Ryan, 28 Thomas Hayden
Sarah Kehoe proved she's in top form this season with a win in the Girls U14, 2500m. Followed closely by Ruth Fogarty in 4th. Rachel O'Neill and Hazel Coogan finished strongly in 8th and 9th to complete the team which won first.
1 Sarah Kehoe, 4 Ruth Fogarty, 8 Rachel O'Neill, 9 Hazel Coogan, 14 Alex Brennan, 19 Martha Dolan, 24 Clodagh Mahon, 31 Kate Kelly, 33 Caoimhe Bennett
The boys U14 came 3rd overall team which is a fantastic result given that most of the athletes on the team were up in age from U13.Sam went out with the lead bunch of strong runners from St. Senans and KCH. The final long stretch separated the boys and Sam finished in 6th. Followed by Thomas, Jack and Ben.
6 Sam Brennan, 10 Thomas Langton, 12 Jack Joyce, 13 Ben Drennan, 19 Sean Cooke, 20 Matthew McAviney, 22 Ruairi Phelan, 23 Liam O'Dwyer
U16 Girls, Maria was our sole runner and she ran a tremendous race finishing 9th and qualifying on the county team to represent Kilkenny at the Leinster Cross Country.
U16 Boys team of 5 won 2nd team in a race against strong cross country runners from Senans and KCH. Billy Coogan up from U15 ran a steady race and finished in 4th with Cillian and Luke both finishing in the top 10.
4 Billy Coogan, 6 Cillian Dunne, 8 Luke Phelan, 14 Hugh Kavanagh, 15 Diarmuid Langton
Juvenile Leader Board
St Senans 22
Gowran 21.5
KCH 15.5
Thomastown 8.5
St Josephs 5.5
MASTERS
In the women's O40 our team came 2nd and 4th with Ann Brennan leading home the Gowran Women in 5th place. This is Ann's first Cross-Country race since her childhood and a lot more to come from Ann in the future. Loraine Carroll took 8th and with 10th for Emma Cooke the 2nd place team was secured. Moria Treacy, Michelle Ryan and Deirdre Kelsey finished in 11th, 12th and 13th and 4th Team. Host club St. Josephs won 1st and 3rd teams.
In the men's O40 again our teams came 2nd and 4th with St. Joseph's stealing the limelight with a 1,2,3 finish. First Gowran man Derek finished in 4th followed by Adrian 5th and John 6th for the 2nd Team place. Eamon Kelsey, Ciaran Carroll and Mick Walsh finished in 11th, 12th and 13th and 4th Team.
Overall, Gowran are ahead of KCH by 1 point and St. Josephs by 2 for the Adult County Shield.
Adult Leader Board
Gowran 14
KCH 13
St Josephs 12
Thomastown 8
St Senans 0
Kings River 0
Click for Flickr Photographs …
Parkrun Kilkenny
2nd Paul Deegan
4th Shane Noonan
1st (JM 15-17) Matthew Holland
1st (JM 11-14) David McGee
2nd (JM 11-14) Micheal Holland
Well done to all our runners
Claire McDonald, Leona McGee, Adrian Cunningham and daughters Abby and Lucy.