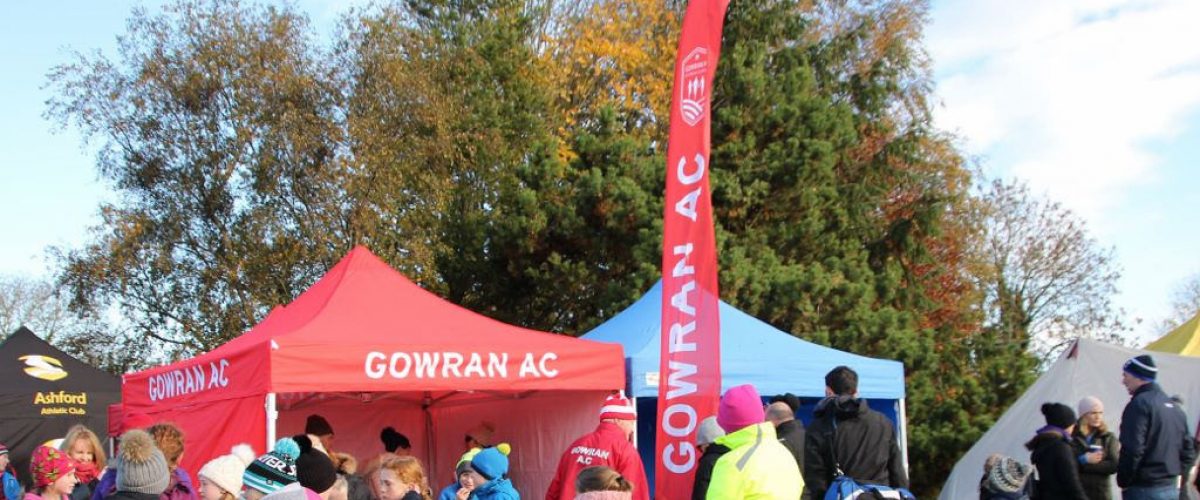 Weekend Roundup 27th/28th October 2018
28th October 2018
SENIOR
Leinster Novice Navan – Sat 27th

13th Dean Rowe 00:20:39
46th Shane Noonan 00:21:56
81st Derek Kehoe 00:23:05
5th County Team, No club team
Frankfurt Marathon – Sun 28th
John Paul Comerford 2:58:52
Dublin City Marathon – Sun 28th
Maurice Barcoe 3:38:44
Joe Treacy 3:52:05
Claire McDonald 3:54:23
Simon Maher 4:05:28
Mick Walsh 4:24:50
Pat Lennon 4:26:10
Fergal Murphy 4:38:28
James Delehanty 4:39:08
Ted Ryan 4:39:09
JUVENILE
Leinster XC Even-age – Sat 27th
The Red Army arrived in Navan, bright and early on sunny October morning. Armed with our new Gazebo and flags we quickly got our camp established and ready to go.
First up were the non-championship races for boys and girls under 10, we had no participants in the girl's race but in the boys under 10 we had stand out performances from Conor Carroll and Evan Ryan. Well done boys
U10 Boys Open Race
9th Conor Carroll
13th Evan Ryan
We then got down to business with the championship races, first to toe the line were the Girls U12, there were 134 athletes in the starting pens for this, and with a strong Kilkenny contingent there, our pens were very packed. While this is very much part and parcel of cross country racing, the feeling among the various coaches was that a county with many entries should be given more space. In the race itself, our 7 runners did fantastically to finish as the 5th club in Leinster. Hats off in particular to Molly Lynch who raced her heart out but never gave up,  and to Hazel Coogan who after finishing 13th last year, ran a very controlled race to finish within the top 12. The county team finished 2nd, with Hazel and Alex scoring on the county team. In the middle of the field, Orla, Alice (in her first provincial race), Eimear and Ailbhe all packed well.
U12 GIRLS 2000M
134 athletes in the race
5 Hazel Coogan* 8:07
21 Alex Brennan* 8:35
50 Órla Brennan 8:59
70 Alice Hattan 9:26
86 Eimear Brennan 9:36
95 Ailbhe Steger 9:42
126 Molly Lynch 10:43
2nd County Team
5th Club Team
In the boys u12 race, there was just shy of 100 athletes, so while the start was frantic, it wasn't quite as aggressive as the girls race. Ruari Murphy was fast out of the pen in the uphill start, but somewhat paid a price for his quick start as the race progressed. 22nd in a leinster's is a great result, but we know Ruairi will be somewhat disappointed not to make the top 12.  Sam Brennan, running in his second cross country race ever – ran a fantastic race to finish 12th – 3rd scorer on the county team.
U12 BOYS 200OM
97 athletes in the race
12 Sam Brennan 7:43
22 Ruairi Murphy* 7:56
28 Tom Kehoe* 8:07
55 Jack Joyce 8:36
65 Darragh Dunne 8:47
71 Charlie Ryan 8:53
77 Aidan Keating 8:59
3rd County Team
4th Club Team
U14 GIRLS 3000M
110 athletes in the race
14 Sarah Kehoe* 12:14
37 Rachel O'Neill 12:55
54 Ruth Fogarty 13:11
91 Maria Connolly 14:18
2nd County Team
7th Club Team
U14 Boys 3000M
89 athletes in the race
7 Billy Coogan* 10:46
60 Luke Phelan 12:31
82 Matthew McAviney 13:34
5th County Team
U16 GIRLS 4000M
55 athletes in the race
2 Hannah KEHOE* 15:21
50 Pia O'GRADY* 18:45
1st County Team
U16 BOYS 4000M
67 athletes in the race
14 Brogan McAviney* 14:39
49 Cillian Dunne 16:20
59 David Byrne 17:16
4th County Team
*placed on the county team
Full Juvenile Results …Click here
Photographs https://flic.kr/s/aHsmv25Tk4