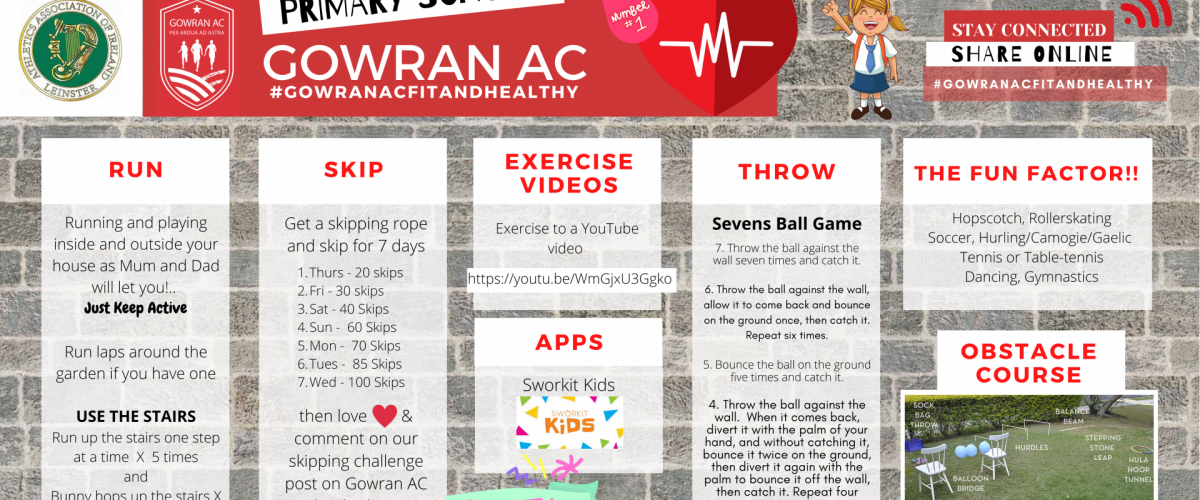 Primary School Active Plan
17th March 2020
😢 It is disappointing that we have had to cancel training for now. We are closely watching the news and following all recommendations by the HSE and Athletics Ireland. As soon as it is safe to resume training we will let you know.
💡In the meanwhile, we have an Active Plans for Primary School kids to keep them Fit and Healthy.
📣 #gowranacfitandhealthy
The plan is optional and athletes can undertake the activities at your discretion. Print the plan if you have access to a printer.
🌍 Stay connected with the club by regularly checking our Facebook feed for challenges and active ideas.
❌ For now, all competitions are postponed.
Stay safe and keep active!
Gowran AC
—————————————-
PRIMARY SCHOOL LINKS
20 min full body workout for kids
https://youtu.be/WmGjxU3Ggko
Dynamic Warmup Video
https://www.suunto.com/…/N…/8-essential-running-form-drills/
🥰 Online Sharing is still ok so share with your friends and family if you think they might be interested in keeping #gowranacfitandhealthy 🤗