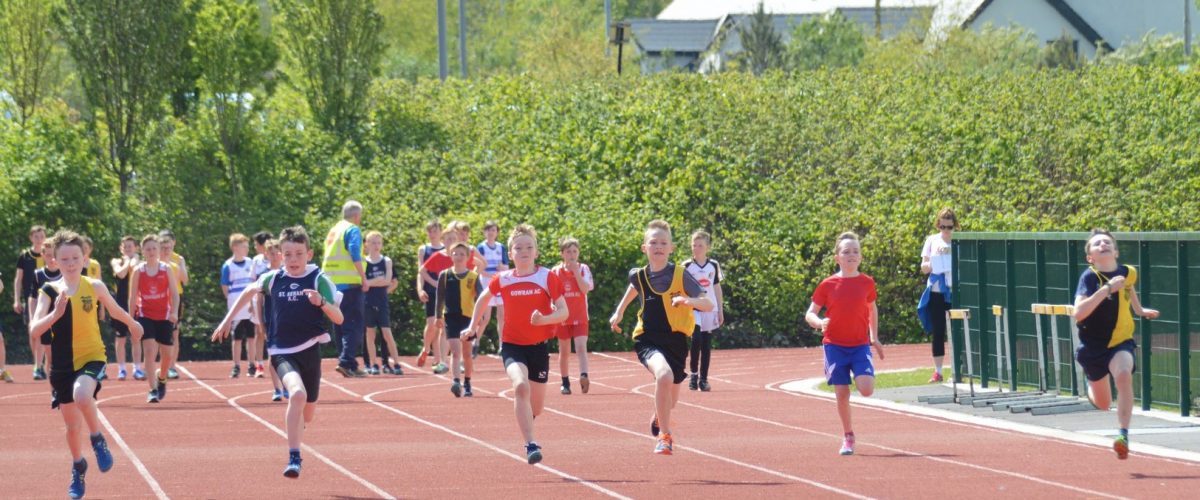 A parent's guide to Pairs competition for juveniles(u9,u10,u11).
16th April 2018
Pairs is the primary format of track and field competition at provincial and national level for boys and girls who are u9,u10 and u11.
In pairs two athletes from the same club compete in one of four events and their times or distances are added up together. So, the pair with the fastest combined time (sprint or distance race), or the furthest combined distance (turbo javelin or long jump), are the winners. Clubs can have more than one pair compete in an event, but each pair is entered as a named pair.
Each athlete is allowed enter up to two events, and their partners can be different in those two events.
Events
Sprint – 60m: an electronically timed sprint, 100ths of a second count.
Distance race: 300m for u9's, 500m for u10s and 600m for u11s – all need careful pacing
Turbo Javelin: 3 throws for each athlete – longest one is recorded for each athlete
Long Jump: 3 jumps and the longest is recorded, the u9s and u10s don't jump from a board but from an area of sand before the pit.
The first competition of the year is the Leinster Pairs Championship, normally held in Tullamore in early June. The coaches will propose the pairs entries a couple of weeks in advance of this, and discuss with parents. Athletes of all abilities are invited to take part as long as they are able to do the event, and we encourage athletes to do two events. Sometimes we end up not having pairs for all athletes / events.
At u9s the focus is very much on fun and participation, but for the u10s and u11s with the fun comes their first taste of "proper" competition and we expect a certain amount of focus and preparation in advance of the competition. We encourage those doing turbo javelin to purchase one.
TULLAMORE
The majority of Leinster Athletics events take place in Tullamore. For the pairs competition plan for a full day in Tullamore, leaving early morning and arriving back to Kilkenny at tea time.
Things to bring to Tullamore
Picnic rug
Camping chair
Money for coffee, soup and snacks
Suncream and / or umbrella
Spikes with 5mm spikes (the small ones)
Club singlet
Drinks and healthy snacks
The competition in Tullamore is for medals and a prestigious place in the All Ireland's.
ALL IRELANDS
This is the national competition, somewhat confusingly called the Juvenile Games. Normally held towards the end of June in Tullamore, the All Ireland is a competition between medals holders from all the provinces. Whilst the Leinster competition day is fun and hectic, the all Ireland's day is more serious and measured – all of the participants have earned their right to be there. To get to compete at these championships is an achievement – typically only 2 or 3 pairs from Gowran AC will make it to this level each year.
The highlight for many of these kids is the championship hoodies or T-shirts which are on sale on the day – you have to get in quick for the hoodies. 
Once this competition is over – there is nothing until the next Leinster championships the following year. At u12 level and beyond competition is individual and there are no more pairs competitions.