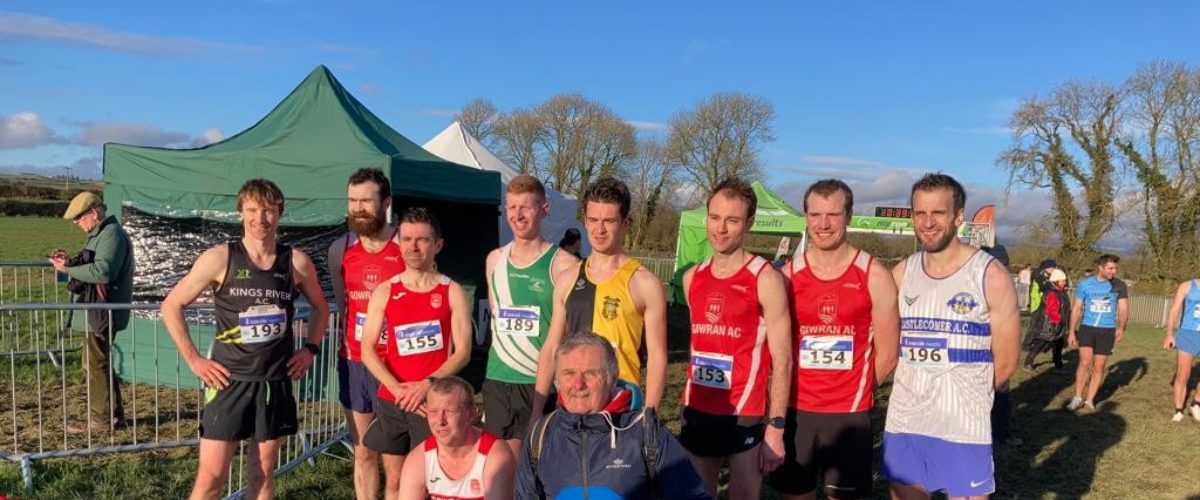 National Intermediate, Master, Juvenile B & Relays Cross Country Championships
15th February 2022
The National Intermediate, Master, Juvenile B & Relays Cross Country Championships were held in Castlelyons, Fermoy, over the weekend. Gowran AC sent a team of 25 athletes to compete, with ages ranging from U11 through to over 70's. The overnight rain made for a more traditional type of cross-country running with heavy underfoot conditions, but there was no shortage of great races. There was some great Gowran performances and results.
In the men's intermediate race, Gowran finished as the 6th top club. Dean Rowe, Shane Noonan, and Johan Muller were also on the Kilkenny county team that finished in 3rd place. John Coady finished just behind Johan.
The juvenile races were categorised based on 2021 ages. Emily O'Keeffe came 3rd in U11's out of 113 runners, and part of a Gowran team that came 3rd overall. In fact 4 of the Gowran U11 girls made up the county team of 6 that came 2nd. Joining Emily on the county team was Heidi Ryan, Mia Kennedy and Kate Mulrooney.
MJ Carroll in the boys U11, earned an individual medal for his 9th place finish. He was part of county Kilkenny team that came 3rd.
Tómas Carroll finished strongly to climb up to finish 14th, leading home a Gowran trio to include Luke Kelly and Matthew Duggan, that were part of the county team that came 3rd.
Lucy Coomey ran well in the large field of girls U15's to finish 24th, and was part of the county team that came 2nd. Lucy was running up an age making her result even more impressive.
In the Over 70's category, we saw the return of Marty Kelly to competitive action, and he ran steadfast as always completing the 4km in 22 mins.
In the relays, Gowran sent a strong team in the boys U12's and finished 4th. They were always in the running throughout the race.
U11-u15 was the All Ireland B cross county championship:
U11 girls (1km) – 3rd placed club, 2nd placed county*
3 Emily O'Keeffe*, 22 Heidi Ryan*, also well placed were Mia Kennedy*, Kate Mulrooney* and Laura Beatty.
U11 boys (1km) – 10th placed club, 3rd placed county*
9th MJ Carroll*, also well placed were Milo Geraghty, Sean Farrell, Rory Treacy, and Ned Og Kelly.
13 boys (1.5km) – 3rd placed county* with all 3 Gowran runners on the county team.
14th Tomas Carroll*, also well placed were Luke Kelly*, and Matthew Duggan*.
U15 girls (2.5km) – 2nd placed county*
24 Lucy Coomey*
The National (A) relays:
U12 Boys 4 X 500m – 4th placed club.
The four boys all ran well and finished a close 4th. They were always within reach of a medal throughout the race. Well done to Darragh Carroll, Evan Ryan, David Timmins, and Aaron Carrigan.
Mens:
National Intermediate (8km) – 6th placed club, 3rd placed county*
With some excellent performances, Gowran finished as the 6th top club. The club was lead home by 18 Dean Rowe*, 35 Shane Noonan*, 46 Johan Muller*, followed just behind by 48 John Coady, and Matt Ryan was also placed. [Well done to Niall and Mick for all your work with the seniors this cross country season].
In the men's over 55, David Farrell ran well in the massive field of 211.
In the over 65's Marty Kelly was back doing what he does, and ran the 4Km in 22 mins, a fair achievement.
Well done to St. Nicholas AC on hosting a well-run event. We know from our own experience the work that goes into hosting a national event.