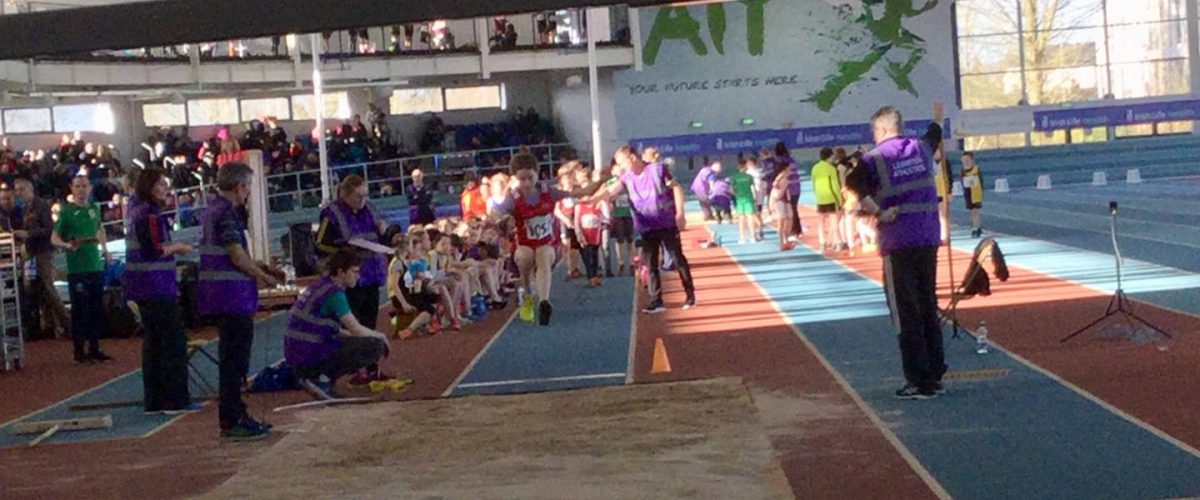 Leinsters Indoors February 2019
11th February 2019
10 Medals – 3 Gold, 3 Silver and 4 Bronze
High Jump – Gold U12 Girls, Bronze U12 Boys, Silver U13 Girls
Shot Putt – Gold U13 Girls, Silver U12 Girls, Bronze U12 Boys
Hurdles – Gold U13 Boys, Bronze U13 Girls
1500m – Silver U16 Girls
Long Jump – Bronze U13 Girls

A fantastic two days for the club in Athlone. Well done to the 27 athletes who participated. Ailbhe Steger dominated this weekend in the U13 Girls winning three medals with 1st in the High Jump with a height of 1.31, and 3rd in Long Jump & Hurdles. Liam O'Dwyer was a clear winner in the boys U13 Hurdles in a time of 10.41. Chloe Lynch in the U13 Girls came 2nd in the High Jump and James Kelsey U12 surprised everyone with a bronze in his first Leinster High jump event.
But Gowran AC proved they can do more than jump with Orla Brennan, Aidan Keating and Rachel Gardiner winning medals in throwing too. Rachel won gold in the U13 girls with a throw of 9.73. Anna came 2nd in the girls U12 Shot and Aidan 3rd in the boys U12.
On the track, it was Hannah Kehoe in the girls U16 who won silver in the 1500m, coming 2nd to Thomastown ACs Fiona Dillion setting a new Championship record of 4:47.56.
FULL CLUB RESULTS
U12 Girls
High Jump – 1st Ailbhe Steger, 10th Ceola Leamy
Shot Putt – 2nd Órla Brennan
Long jump – 3rd Ailbhe Steger, 41st Ceola Leamy
Hurdles – 3rd Ailbhe Steger, 7th in Heat Ceola Leamy
U12 Boys
High Jump – 3rd James Kelsey

Shot putt – 3rd Aidan Keating, 8th Noah Denieffe

Long Jump – 4th Aidan Keating, 18th Tom Kehoe, 24th Noah Denieffe, 33rd Charlie Ryan

Hurdles – 5th Tom Kehoe, 7th in heat Noah Denieffe, Charlie Ryan DNF,
600m – 11th Tom Kehoe
U13 Girls

High Jump –
2nd Chloe Lynch, Molly Nolan
Shot Putt – 1st Rachel Gardiner, 14th Molly Nolan, 18th Chloe Lynch
60m Sprint – 8th in Heat Rachel Gardiner, 7th in Heat Molly Nolan

Hurdles – 6th in Heat Chloe Lynch
U13 Boys
High Jump – 7th Liam O'Dwyer, 10th Sean Cooke
Long Jump – 10th Eoin Corr, 13th Darragh Dunne
Hurdles – 1st Liam O'Dwyer, 5th in heat Ruairi Phelan, 6th in heat Sean Cooke

60m Sprint – 5th Darragh Dunne in the final, 6th in Heat Eoin Corr
U14 Girls
Shot Putt – 7th Anna Brennan

800m – 6th Sarah Kehoe
Hurdles – 3rd in Heat Sarah Kehoe
long jump – 21st Sarah Kehoe
U14 Boys
800m – 8th in Heat Eoin Brennan
Hurdles – 6th Eoin Brennan
U15 Girls
Long Jump – 12th Maria Connolly
Walk – 6th Maria Connolly
60m Sprint – 4th in Heat Maria Connolly
U15 boys
High Jump – 5th Darragh Nolan

800m – 5th in heat Luke Phelan, 9th in heat Timmy Brennan

Hurdles – 5th Luke Phelan , 4th in Heat Timmy Brennan

60m – 8th Darragh Nolan
U16 Girls
1500m – 2nd Hannah Kehoe
Long jump – 11th Pia O'Grady
800m – 8th in heat Pia O'Grady
U16 Boys
1500m – 12th Cillian Dunne
U17 Boys
Long Jump – 11th David Byrne
200m – 5th David Byrne