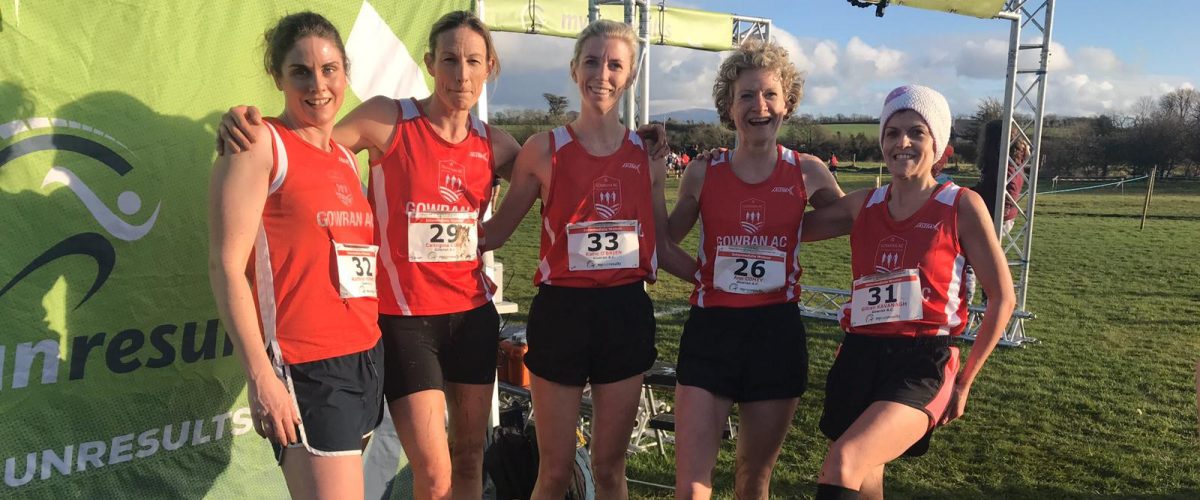 Leinster XC Intermediate, Masters and Juvenile Relays
12th January 2020
A beautiful sunny day in Gowran for the Leinster Juvenile Relays, Master and intermediate XC Championships.
The highlights today included silver for the Intermediate Women's club team. Katie O'Brien led the team coming an impressive 5th followed by Caitriona Corr in 7th. Both Katie and Caitriona were scoring members of the Kilkenny County Team which came 2nd. Solid racing from Kathryn, Ann and Gillian too to complete the team. Another fantastic performance for Dean Rowe finishing in the top 10. Both Dean and Johan (23) won a gold medal with the County team. Coach Adrian Cunningham still had lots in the engine even after preparing sixteen U12 juveniles for the relays. In the Masters men, Paul Deegan ran a superb 6000m coming 5th in his age category. A special well done to new member Shane McCullagh who participated in his first XC event.
In the Juveniles, the standard was incredibly high and we had many 5th/6th place results. The U14 boys were unlucky getting knocked out of third on the final leg. In the U12 Girls, Rachel Duff ran a great leg coming in third position but had a fall just before the changeover which knocked them back in the field but with a strong leg from Kate Hayden put them back in the race and they finished 5th. But the highlight of the juveniles was the  U16 boys. These four boys have lots of cross country experience and they all ran to their best to secure 2nd team with Billy Coogan, Luke Phelan, Bobbie Brennan and Darragh Nolan.
Well done to all our U10s who started the day with a 500m dash. Great to see the younger ages finding their feet on the XC scene.
Club Chairman Eamon commented  to say "Big congratulations to all our athletes who ran today. Tough conditions but everyone did great. A HUGE THANKS to all who helped with set up (in the pouring rain) yesterday & also all who helped in running the event break down & clean up today. It would not be possible to host these events without the goodwill of all who volunteer. Well done to all!👏👏"
RESULTS
Intermediate Women
2nd Club Team and 2nd County* Team
5 Katie O'BRIEN *
8 Caitriona CORR *
20 Kathryn KENNEDY
23 Ann COOMEY
25 Gillian KAVANAGH
Inter Men
6th Club and 1st County* Team
9 Dean ROWE*
23 Johan MULLER*
34 John COADY
37 Adrian CUNNINGHAM
40 Darren EVANS
Masters Men
7th Club Team O50
42 Paul DEEGAN Mas M 50+ (6) M50 (5)
105 Muiris BRIC Mas M 50+ (44) M55 (11)
113 Pat LENNON Mas M 50+ (48) M60 (7)
116 Shane MCCULLAGH Mas M (66) M40 (27)
JUVENILE RELAYS
U12 Girls 
5th – Team A – Rachel Duff, Holly Drennan, Kate Hayden, Eve Doyle
10th – Team B – Kathy Phelan, Anna Kelsey, Orlaith Carroll, Aisling O'Neill
Sub – Lucy Cunningham
U12 Boys
5th  – Team A – Tomas Carroll, Evan Ryan, Conor Carroll, Robert Coogan
10th – Team B – Joe Hayes, Darragh Carroll, Cailum Burke, Ross Murray
Subs- Dara Leamy, David Timmins
Girls u14 6th
Hazel Coogan, Alex Brennan, Lucy Coomey, Eimear Brennan
Sub – Ceola Leamy
Boys u14 4th
Darragh Dunne, Sam Brennan, Daithi Magee, Michael Holland
Sub – Ruairi Phelan
Girls u16 6th
Rachel O'Neill, Maria Connolly, Ashling Fitzpatrick, Ellie Murray
Sub – Samantha Tervit Kruger
Boys u16 2nd
Billy Coogan, Luke Phelan, Bobbie Brennan, Darragh Nolan
Sub – Hugh Kavanagh
My Run Results Report
Gowran A.C. hosted this years Juvenile Relays, Master and intermediate XC Championships. The weather conditions contributed to a great day of racing and entertainment for onlookers and supporters. Clear skies greeted the athletes as they made their way into the XC venue. This event gives Juvenile athletes a chance to run short distances leg of a relay without having to exert themselves too much. There was a great atmosphere as both the young athletes and their parents enjoyed a fun day out. Some clubs made a right good day out by hiring buses to get to the event.
The adults races started with the Masters Womens race. From looking at the participant booklet before the race, we could see there would some mouth watering battles fought throughout the race. Age cats from 35 to 70 along with teams scoring for over 35s and over 50s were all up for grabs. This was a chance for clubs to start the year of a good foot for the year ahead.
The overall Female Masters winner was Karen Costelllo of Dunleer A.C. Sli Cualainn took the women's over 35 club team top spot over Sportsworld and Newbridge A.C. Dublin won the County over 35 team with Wicklow and Meath in 2nd and 3rd.
The Men's Master race was similar to the women's with some fierce competition among athletes and clubs for honors.
The overall winner of the Men's Masters race was. Eoin Flynn of Rathfarnham WSAF. Ratharnham won the over 35s with Dublin winning the county with Laois and Offaly 2nd and 3rd.
The intermediate races followed the Masters events. These races did not have the same amount of participants as the Masters races, however, they were hotly contested. The women's race provided a hugely entertaining and tight race. Raheny's Niamh Colbert and Tullamore's Emily Grennan were nip and tuck all the way to the end. From pretty much after 500m into the 4,000m race we knew we had a race. It went right to wire both athlete's kicking it out to the end. Niamh managed to take the title in the end.
The Men's Intermediate race was won by Padraig Moran who was a comfortable winner of this race. Mullingar Harriers won the club event and Kilkenny won the county team