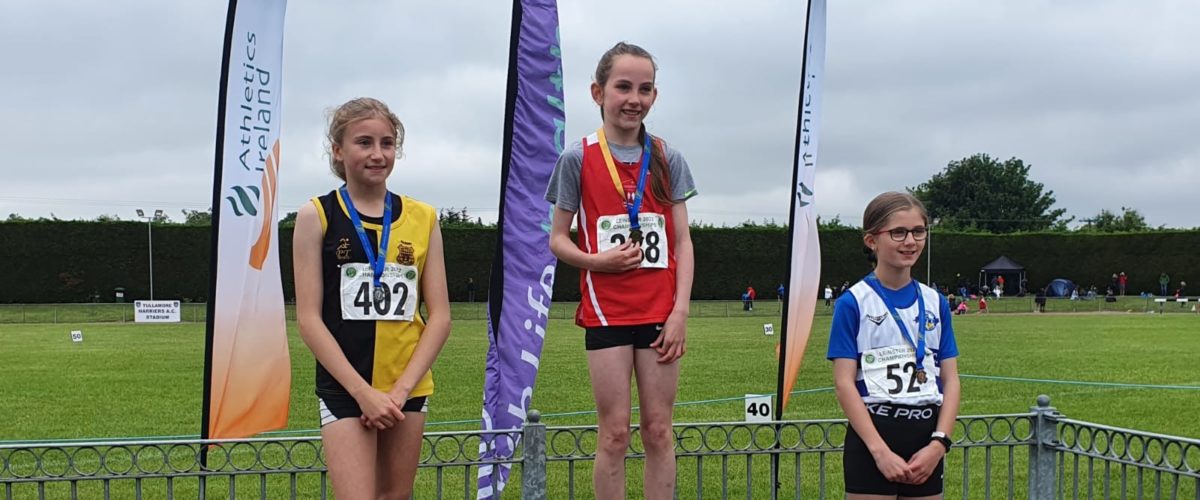 Leinster U12/13 Championship & Pairs 2022
11th June 2022
On Sunday last the Leinster U12 & U13 championships, along with U9-U11 pairs (team of two, with results combined), and inter county relays were on in Tullamore. Gowran had 22 athletes competing. In the pairs Daniel Green and Ross Hutton won gold in the U11 long jump, while Daniel won silver in the 60M while pairing with Seán Farrell. Sarah Mulrooney and Orla O'Keeffe paired to win silver in the Turbo Javelin. Gowran had many other worthy performance, see below.
In the U12/13 juvenile championships, Rachel Duff won gold in the 80M sprint, winning both her heat and the semi final along the way. Rachel has been in great form this year. Evan Ryan came 3rd in U13 shot Put. Evan has come back strong this year and has been featuring in multiple track and field events. Aaron Carrigan won his heat comfortably, he was unlucky in the final as he got boxed in right at moving time.
In the intercounty relay teams, Gowran were well represented, with six Gowran athletes winning medals while wearing the black and amber – Emer O'Callaghan, Sean Farrell, Daniel Greene, Oren Denieffe, Rachel Duff and Evan Ryan.
U9-11 Pairs:
Long Jump U11 – Daniel Greene & Ross Hutton 1st
Long Jump U10 – Ted Kelsey & Seán Cummins 14th
60M U11 – Seán Farrell & Daniel Greene 2nd
60M U11 – Ross Hutton & Matthew Byrne 10th
60M U10 – Ted Kelsey & Seán Cummins 13th
500M U10 – Sarah Mulrooney & Orla O'Keeffe 15th
Turbo Javelin U11 – Seán Farrell & Matthew Byrne 6th
Turbo Javelin U10 – Sarah Mulrooney & Orla O'Keeffe 2nd
Intercounty Relay:
U11 Girls Inter County 4x100m Relay – Kilkenny 2 – Emer O'Callaghan
U11 Boys Inter County 4x100m Relay – Kilkenny 1 – Sean FARRELL, Daniel GREENE
U13 Girls Inter County 4x100m Relay – Kilkenny 1 – Rachel Duff
U13 Boys Inter County 4x100m Relay – Kilkenny 3 – Evan RYAN, Oren DENIEFFE
U12/13 Championship:
80M U13 Heats – Rachel Duff 1st, Eimear Cottrell 2nd, Lucy Cunningham 3rd. In the semi finals Rachel came 1st, and Eimear 8th.
80M U13 Final – Rachel Duff 1st.
60M U12 Heats – Aaron Carrigan 4th, Lucy Brennan 7th.
600M U12 Heats – Aaron Carrigan 1st, Emily O'Keeffe 5th, Kate Mulrooney 7th, Heidi Ryan 10th.
600M U12 Final – Aaron Carrigan12th. .
600M U13 Heats – Evan Ryan 5th, Eimear Cottrell 9th, Michael O'Keeffe 9th.Shot Put U12 – Heidi Ryan 8th. Oren Denieffe 14th
Shot Put U13 – Evan Ryan 3rd, Anna Kelsey 6th.
High Jump U12 – Emily O'Keeffe 13th