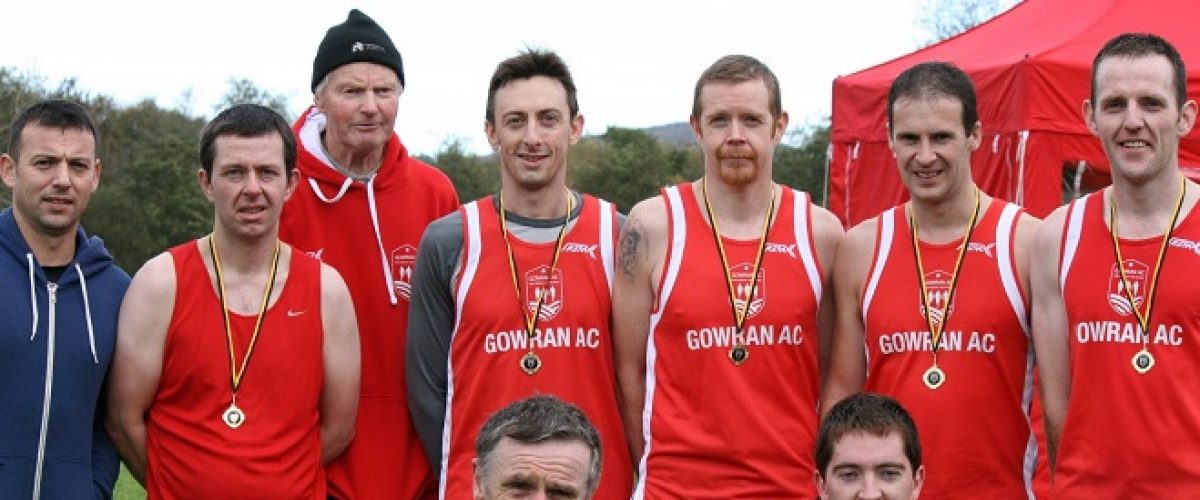 Kilkenny Novice Cross Country 2013
5th November 2013
Gowran AC topped off what was a great week from the club in Kilmacow last Sunday with some great team performances in both the Men's and Women's Novice Cross Country.
The Novice Men's team ran excellently to come home in First Place to win the Men's event and take home the Novice XC Smithwick Cup. Well done lads!
Novice Men (6k): 1 Jonathan Webb (G), 2 Luke O Connor (KCH), 3 Luke Morgan (SS), 4 Eddie O keefe (KCH), 5 Marty Mosely (G), 6 Paul Sheehan (SJ), 7 David Dempsey (G), 8 Michael Ryan (SJ), 9 Adrian Cunningham (G), 10 Billy Holden (G), 11 Conor Quinlan (KCH), 12 Bill Carroll (TT), 13 Colm Sheridan (SS), 14 Liam Og Carey (KCH), 15 Rocky Mernagh (SJ), 16 Joey Duggan (SJ), 17 Richard Limpkin (KCH), 18 Brendan Murphy (G), 19 John Finn (SS), 20 Sean Hokey (SJ), 21 Mick Walsh (G), 22 Ciaran Cullen (SJ),
Teams: 1 Gowran 22 (Jonathan Webb, Marty Mosely, David Dempsey, Adrian Cunningham), 2 KCH 31 ( Luke O Connor, Eddie O Keefe, Conor Quinlan, Liam Og Carey), 3 St Josephs 45 (Paul Sheehan, Michael Ryan, Rocky mernagh, Joey Duggan)
Both Women's teams also raced suberbly to also medal with the ladies taking both 2nd and 3rd place, just narrowly missing out on victory. There were also individual silver and bronze medals for Linda and Nicola respectively.
Novice Women (3K): 1 Megan Morrissey (TT), 2 Linda Delaney (G), 3 Nicola Nolan (G), 4 Maeve O Connor (TT), 5 Niamh O Shea (TT), 6 Catherine Kennedy (G), 7 Anne Skehan (G), 8 Leanne Butler (G), 9 Michelle Ryan (G), 10 Breda Roche (SJ), 11 Kate Carroll (G), 12 Siobhan Wickham (G), 13 Susan Lanigan (SJ), 14 Siobhan Mullally (SJ), 15 Maria Maher (TT), 16 Triona Foley (SJ), 17 Carol McCormack (TT), 18 Shauna Power (SJ), 19 Maria Jones (SJ), 20 Adrienne Flynn (SJ), 21 Tracy Malone (SJ), 22 Aoife Phelan (G), 23 Anna O Dwyer (SJ)
Teams: 1 Thomastown 10 (Megan Moorrissey, Maeve O Connor, Niamh O Shea), 2 Gowran 11 (Linda Delaney, Nicola Nolan Catherine Kennedy), 3 Gowran 24 (Ann Skehan, Leanne Butler, Michelle Ryan)