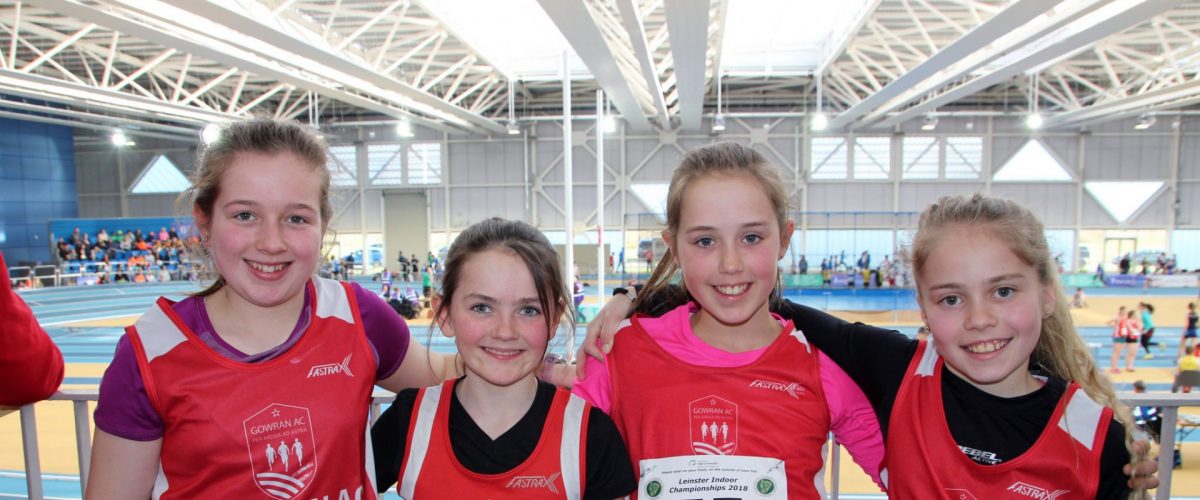 Fantastic 2018 Leinster Indoor Championships for the Club
17th March 2018
With day 4 (hurdles, middle distance and field) of the championship concluded on Sunday, March the 11th, the curtain closes on a fantastic championship for the club. We owe all the athletes, coaches and families a debt of gratitude for their efforts in training, travelling and competing to the meets in both Athlone and the National Indoor Arena.
We had a 42% increase in participation numbers, with many athletes making their indoor debut from u12 upwards, and there were great performances throughout all the ages. Kudos to one and all. We took home 16 medals across the four days. In 2017, we took home 7 medals.
GOLDS
u17 Boys High Jump, Peter Dunne, Gold
u19 Boys 60m, David Murphy, Gold
u19 Boys 200m, David Murphy, Gold
SILVERS
u12 Boys 60mH Liam O'Dwyer, Silver
u14 Girls Shot Put, Rachel Gardiner, Silver
U16 Boys Shot Putt, Eoin Murphy, Silver
U16 Girls Walks, Robyn Denieffe, Silver
u18 Boys Triple Jump, Zach Denieffe, Silver
u18 Boys Shot Put, Zach Denieffe, Silver
BRONZE
u13 Girls Shot Put, Anna Brennan, Bronze
u14 Boys High Jump, Darragh Nolan, Bronze
u16 Girls Shot Put, Eve O'Dwyer Bronze
u16 Girls Triple Jump, Eve O'Dwyer, Bronze
U16 Boys Shot Putt, David Byrne, Bronze
u17 Boys Walks, David Holland, Bronze
u18 Girls 60mH, Ellen Purcell, Bronze
PLUS All Ireland Qualifier
u16 Girls Walks, Anna Connolly 4th 
We have to make a special mention of our relay teams who performed excellently in the National Indoor Arena, in particular, our Boys u12 squad of Daithi, Liam, Darragh and Ben, who dominated their heat and were so unlucky not to medal in the tightest of finishes. There'll be other days for them.