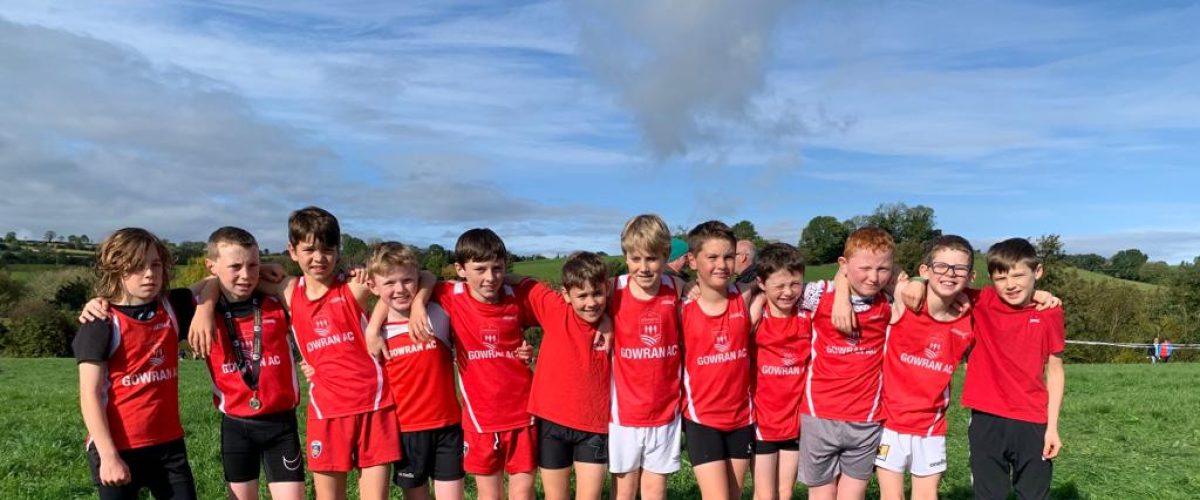 County XC in Castlecomer
13th October 2019
SUMMARY
11 top 3 Medalists

GOLD: Robert Coogan, Sarah Kehoe, Paul Deegan
SILVER:  Pearl Treacy, Conor Carroll, Billy Coogan, Derek Kehoe
BRONZE: Emily O'Keeffe, Kate Hayden, Cillian Dunne, John Leamy
4th Place: Evan Ryan, Hazel Coogan, Sam Brennan
10 Club Team Prizes
GOLD U11 Boys, U13 Boys, O45 Men, O50 Men
SILVER U13 Girls, U15 Girls,  U17 Girls, U17 Boys
BRONZE U11 Girls, U15 Boys
Shield
O45 Men
Wow a huge big, THANK YOU, to our 82 athletes who came to Castlecomer to run today. There were so many exciting races with fantastic finishes and well earn top 10 positions. Gowran AC won 51 medals in total. Our juveniles put in their best effort but unfortunately Gowran came second to St. Senans by 2.5 points in the overall battle for Kilkenny's top Juvenile XC Club. Whenever we had a team we won points but unfortunately we missed out on some points in our older age category as we didn't have teams which gave St. Senans the lead. We won the Mens O45 Shield and our Senior/Master runners still have another few competitions to decide the Overall Club Shield but we are currently leading.
Highlights included:
Robert Coogan up in age from U10 who ran a great race just beating team mate Conor Carroll on the finish line. Both boys congratulated each other in fine sportsmanship and revelled in an extra bonus of a having a strong team with Evan Ryan and Sam McAviney finishing close behind to get gold for the team too.
A fantastic 2k from Sarah Kehoe who finished first well clear of the rest of the field.
A powerful run from start to finish for Billy Coogan who finished 2nd.
The 3rd place run from Emily O'Keefe, relatively new to competitions in U9.
Pearl Treacy's silver medal run in U7 carrying on the family tradition of running with Mum, Dad and brothers all running for Gowran AC.
Paul Deegan and his band of merry (masters) men who gave it their all on the 3k for club points.
The boys U13 for working together to gain valuable places on their competitors getting up the hills. 1st team for Sam Brennan, Thomas Langton, Jack Joyce and James Kelsey.
Kate Hayden who continuously leads the U11 girls out to success and is never in a rush to leave after the competition.
Those (and there was a few) who were not in the mood, were dragged by parents or who dislike XC but ran for a team anyway. The other team mates were so happy to have a team and so glad to have company on the journey.
Well done to all who have qualified for Club and County teams over the last 2 County competitions. It's on to the Leinsters in Gowran on the 26th of October and the 9th of November in Ferbane, Co. Offaly.
Upcoming Fixtures:
26 Oct Leinster Even Ages, Junior and Novice Cross Country, Gowran
3 Nov County Senior/B Juveniles Even ages Kilkenny 11am
9 Nov Leinster Uneven Ages and Senior Cross Country, Ferbane
Club Photos: https://www.flickr.com/gp/gowranac/b21vT7
Club Results Juvenile: https://gowranac.com/result/2019-xc-castlecomer/
Club Results O45/O50:https://gowranac.com/result/2019-o45-o50-countyxc/
Full Results: coming soon