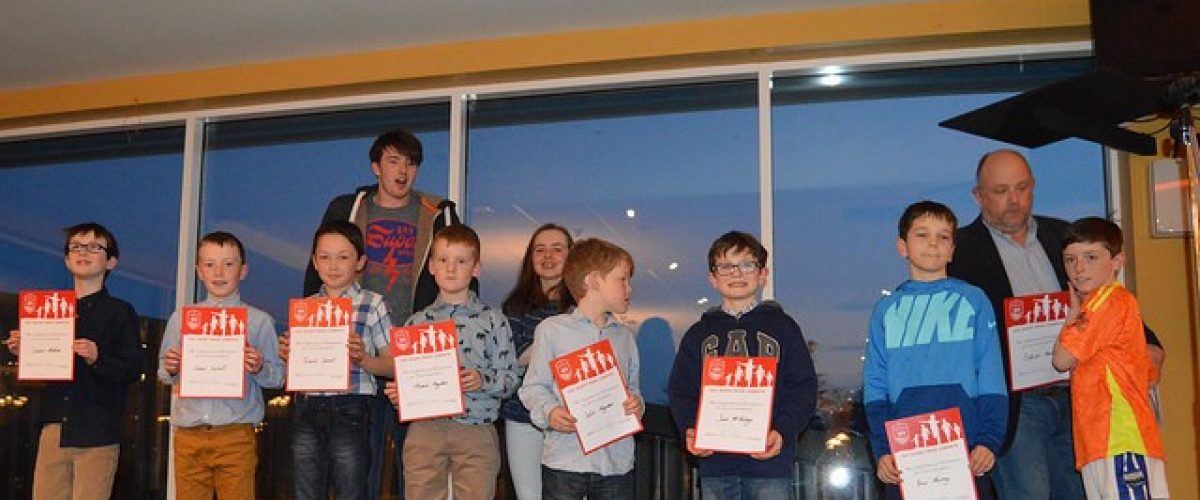 Club Award Night 2018
13th April 2018
2017 was a very successful year for Gowran AC. With over 260 members, Gowran AC was the fastest growing athletic club in Kilkenny. The club has 21 coaches including 4 junior coaches with various levels of training and areas of expertise. It had lots of success at County, Leinster, National and International Level in Track & Field, Cross Country and Road. The club prides itself on bringing out the best in all our athletes.
The awards night celebrated our competitive success but also the success of the athletes, parents, coaches and committee working together. Almost 200 Gowran AC supporters and athletes were welcomed by Club Secretary, Dave Denieffe. 39 athletes who qualified for the All-Irelands in 2017 received an engraved medallion present by club president and coach Liam Kealy. Certifications of Participation were presented to each athlete from U7s up to U18s for doing their best throughout the year and making training sessions fun for all the coaches.
The Athlete of the Year went to Niall Sheehan who won the 2017 National Intermediate Cross Country.
Merit Awards went to Catherine Whelan and Mary Fitzgerald. Catherine has been involved in the club since the since the 80s and when the club went through difficult time Catherine worked tirelessly to keep it going. She has taken a step back in recent years but now with her grand-daughter joining the club we might be seeing more of her. Mary Fitzgerald had great success in 2017 in the Discus, Shot Putt and Javelin.  Mary is ranked 11th in the world for Shot Putt, 9th for Discus and the world-leading thrower for Javelin.
The Club Team of the Year went to Eamon Kelsey, Pat Lennon, Maurice Prendergast, Ted Ryan, Ciaran Carroll and Noel Brennan for all the great teamwork that went into the facilities for our annual Stook Road race. Costelloes sponsored well-earned craft beer for all the men.
The Academy Star Award presented by club sponsor Mary McDonagh from Innovotec, went to Sean Hayden who joined in 2017 while on the road to recovery from a serious illness. Sean has come on in leaps and bounds literally throughout the year and he was so surprised to receive an award for his efforts.
Club Star Awards
Ellen Purcell and Luke Phelan
Juvenile Track Athlete of the Year 2017
David Murphy
Senior Field Athlete of the Year 2017
Sophie Parkinson
Club Walks Award 2017
Robyn Denieffe
Club Road Award 2017
Paddy O'Keeffe
Juvenile Cross-Country Award 2017
Hannah Kehoe
Junior Athlete of the Year 2017
James O'Neill
Senior Cross-Country Award 2017
Niall Sheehan
Master Athlete of the Year 2017
Padraig Crawford
All-Ireland Qualifications 2017

Albi Paul
Alexandra Brennan
Anna Brennan
Anna Connolly
Billy Coogan
Brogan McAviney
Caoimhe Coady
Cillian Dunne
Daire Mahon
Danny Graham
Darragh Dunne
David Holland
David Murphy
Eimear Brennan
Elizabeth Maley
Emma Farrell
Eoin Murphy
Eve O'Dwyer
Gavin Manning
Hannah Kehoe
Hazel Coogan
James O'Neill
Liam O'Dwyer
Lucy Coomey
Luke Phelan
Noah Denieffe
Odhrán Prendergast
Orla Brennan
Peter Dunne
Rachel O'Neill
Rebecca Lennon
Robyn Denieffe
Ruairí Murphy
Ruth Kennedy
Sam McAviney
Sarah Kehoe
Tom Kehoe
Tomas Carroll
Zack Denieffe
Club Chairman, Simon O'Dwyer, thanked the coaches and athletes for their dedication throughout the year, the parents and committee for their support, the valuable contributions to the club by sponsors Innovetec and welcomed the continued partnership with Young Ireland's GAA not only in the organising of Stook but also with the shared participation of young sportspeople in both clubs. He concluded by encouraging everyone to get involved at any level of the club and emphasised how involvement can bring great joy and fulfillment on a personal level.
The next AGM is on the 24th of April, come along and get involved. There is always room for more volunteers!
Thanks to Eileen Purcell for the fantastic photographs which captured the night perfectly.