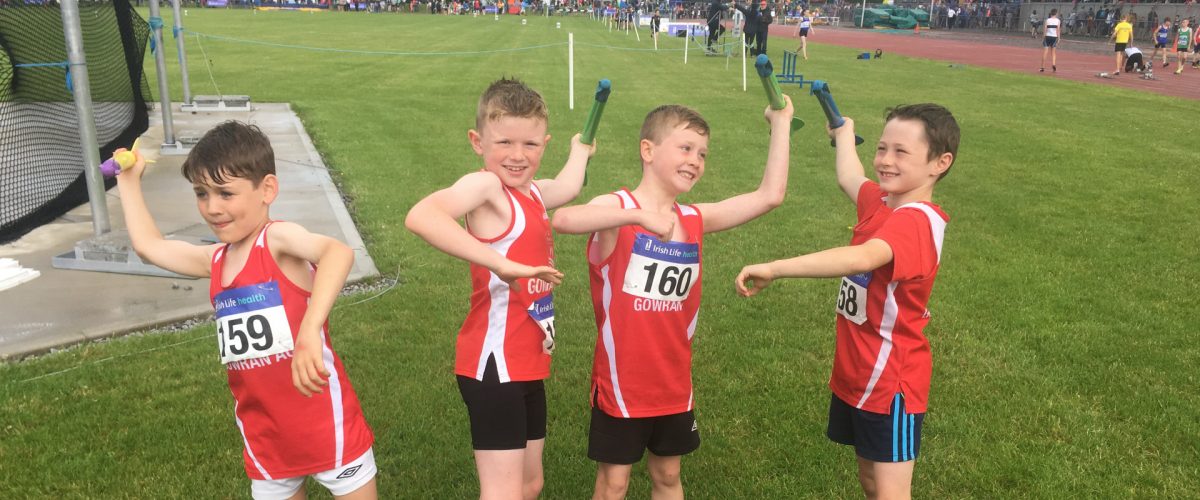 All Ireland's Childrens Games and U12/13 Events
30th June 2019
Some great results from Gowran AC athletes today. Gowran had a club record 16 athletes up for today's All Ireland events. 
In the pairs we brought home 1 gold, 2 silver and 1 bronze
The gold went to our under 10 girls in Turbo Jav with Anna Kelsey and Niamh Brennan starting the day in style retaining the gold medal they won a year ago in under 9. The two silver went to our u10 and u11 boys turbo Jav with Evan Ryan and Darragh Carroll shooting high in the former and Darragh's brother Tomas Carroll and Odhran  Prendergast in the latter. Our bronze pair again came in Turbo Jav with our under 9 girls pair of Heidi Ryan and Eimear Keating. Heidi and Eimear both improved their throws by 2 meters since winning at Leinsters.
Our other pairs missed out on medals with our other u10 boys pair in turbo Jav Dara Leamy and David Timmons coming 7th and our u11 boys (again Odhran and Tomas) barely missing by 0.05s on bronze in coming 4th in the sprint. 
All in all super performances. 
In our older age groups we had some excellent results. Highlight was Rachel Gardiner's massive PB of 10.52 to take 3rd in u13 Shot putt. It was no more than the hardworking thrower from Skeoghvosteen deserved in a hugely competitive final. 
Ailbhe Steiger barely missed out on a medal in coming 4th on count back in U12 High jump. Orla Brennan threw a PB of 7.57 to come 5th in U12 shot putt. Chloe Lynch jumped well in U13 high jump and Noah Denieffe threw well despite injury to finish just outside the top 8 in U12 Boys turbo Jav. Liam O'Dwyer ran hard in the U13 boys 80m heat but didn't progress to the final. 
All in all another great day for Gowran.
PHOTOS – https://flic.kr/s/aHsmEDFeMr