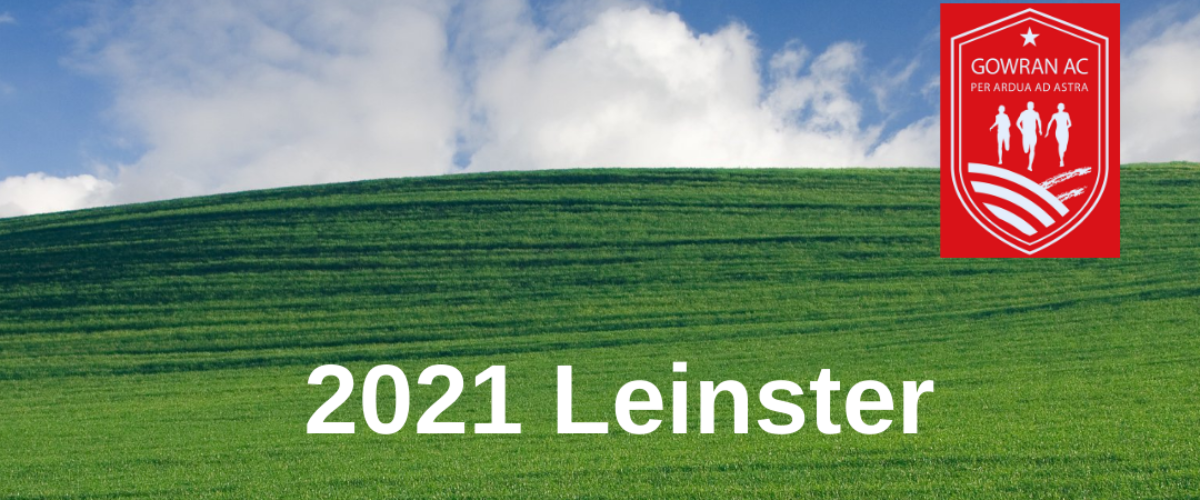 2021 Leinster Even Ages Cross Country
27th October 2021
St. Senans hosted the Leinster Even Ages Cross Country in Mountainview Golf Course, Ballyhale yesterday. The hilly course meandered around the golf course which was well marked out and reasonably dry underfoot. The rain stayed away for the first few races but lashed down later adding to the difficulty.
Gowran AC Top 12 finishers
U12 Boys- 3rd Robert Coogan and 12th Evan Ryan
U14 Boys – 7th Conor Carroll
U18 Boys – 2nd Billy Coogan and also 10th in Junior
Club Team Medals
1st Boys U12: Robert Coogan, Evan Ryan, Aaron Carrigan and Darragh Carroll
Full Results: https://www.myrunresults.com/events/leinster_xc_even_ages_2021/4219/results
U12 Girls
With 120 athletes in this race, the Gowran girls were under pressure at the start to get to the front of the race. Over the 2000m, all the Gowran girls were steadfast and determined to do their best for the team. 1st home for Gowran, Emily O' Keeffe stepping up in age to U12 had a fantastic run. Emily is having a solid season winning the U11 County race in Castlecomer 2 weeks ago. She was followed by Orlaith Carroll, Daisy Coomey and Anna Kelsey who all finished in the top 50. Rachael Duff, Lucy Cunningham and Grace Roberts both ran well but are happy to now focus on getting inside for the indoor season. U11s Heidi Ryan and Laura Beatty ran very well and enjoyed the experience of their 1st Leinster race.
The girls were 7th club team. The county team came 4th with Emily, Daisy and Anna all contributing. This county team qualifiers for the All Irelands.
25 Emily O'KEEFFE
32 Orlaith CARROLL
48 Daisy COOMEY
50 Anna KELSEY
70 Rachael DUFF
79 Heidi RYAN
96 Lucy CUNNINGHAM
109 Grace ROBERTS
110 Laura BEATTY
U12 Boys
Robert Coogan and Evan Ryan got a good start out to the front of the 96 U12 Boys. Robert position himself nicely in 5th throughout the race and made calculated moves into 3rd position towards the end. Evan stayed with the top group and finished in 12th. The top 12 make the Leinster team for the All Irelands so it is a huge achievement to get two club boys on the Leinster team.
Just behind Aaron Carrigan and Darragh Carroll competed with unwavering determined to score for the team, knowing the boys were up ahead. Aaron was stepping up in age from U11 but after his fine performance at the counties in Castlecomer two weeks ago, he had the confidence to go for it. Also working hard were Micheal O' Keeffe and David Timmins. The U11s MJ Carroll, David Carroll and Milo Geraghty were impressive in their 1st Leinster race.
1st Club team for these boys.
2nd county team with Robert, Evan and Micheal in the top 6 Kilkenny boys home.
3 Robert COOGAN
12 Evan RYAN
24 Aaron CARRIGAN
27 Darragh CARROLL
36 Mj CARROLL
42 Michael O'KEEFFE
66 David TIMMINS
68 David CARROLL
80 Milo GERAGHTY
U14 Girls
In the U14 girls, Lucy Coomey, Kate Hayden and Eve Doyle battled the harsh wind and rain over their 3000m race. Lucy moved strongly to the front of the field and finished in 22nd.
Kate and Eve both ran well too in the conditions and finished 49th and 72nd.
5th County Team with Lucy and Kate making the top 6.
22 Lucy COOMEY
49 Kate HAYDEN
72 Eve DOYLE
U14 Boys
More great performances from the U14 Boys in their 3000m.
Conor Carroll battled hard to get to the front group and pushed forward throughout the race to finish in 7th position. Conor is U13 so this is an extra special achievement finishing so well up in age.
Tomás, James and Matthew also had strong performances. Our club team and the county team both finished 7th.
Joe Hayes couldn't attend as he was out with illness. It was noted that he would have loved the rolling hills and lashing rain! But he'll be back for his U13 race on the 7th of November.
7 Conor CARROLL
47 Tomas CARROLL
53 James KELSEY
80 Matthew DUGGAN
U16 Girls
The races get even tougher as they get older and the conditions got wetter. In the u16 girls 4000m, Hazel Coogan, Rachel O'Neill and Alex Brennan all ran very strong races and finished in the top 50.
The girls had no club team but they were 4th County team.
28 Hazel COOGAN
29 Rachel O'NEILL
50 Alexandra BRENNAN
U16 Boys
Well done to our sole U16 runner Michael Holland who came 49th up in age in his 4000m. Michael was left without a team when all his team mates unexpectedly pulled out during the week. But Michael was the 6th Kilkenny boy home and the County team came 4th.
49 Michael HOLLAND
U18 Boys and Junior
A superb 6000m run for Billy Coogan whose performance this year has been amazing. Billy finished 2nd U18 and 10th in Junior. These races are run as one so it is possible to place in both. Matthew Holland was also in top form and he finished 42nd in Junior and 21st U18.
Both Matthew and Billy were in the top 6 Junior Kilkenny boys and their County Team came 5th.
2 and 10 Billy COOGAN
21 and 42 Matthew HOLLAND
The U10s also had a non Championship race at the start of the day. Well done to May Timmins and Orla O'Keeffe in the girls. Sean Farrell, Ned Og Kelly, Bobby Coomey and Ross Hutton in the boys.
A huge thanks to so many Gowran AC athletes attending and representing your club. Well done to all the athletes.
Next up is the uneven age Leinster cross country U11 – U19 age groups in two weeks' time at Avondale House & Forest Park, Rathdrum, Co. Wicklow A67 P303, starting at 11.30am, on Sunday 7th November.