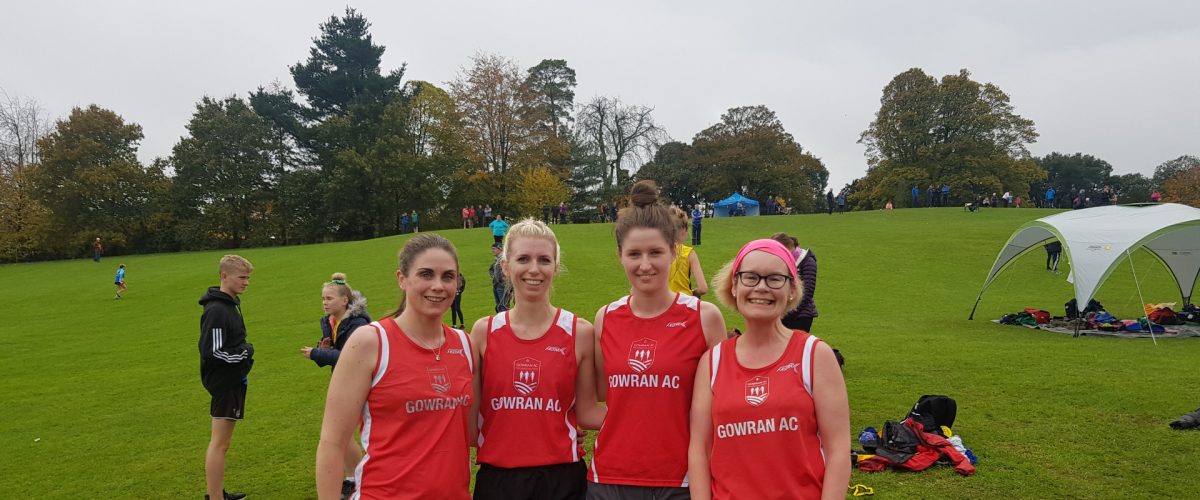 2019 County Senior Championship & Juvenile B Even ages
7th November 2019
Following a day of epic rain on Saturday it was fingers crossed for the County Senior/ B Juvenile Even Ages Event in Kilkenny on Sunday. Held in the Castle Park with the kind permission of the OPW the event was held in nice dry conditions until the very end when we had real XC weather for the Senior mens and women's event!
There were some stellar performances from Gowran AC Athletes resulting in the clubs current standings in the Adult Shield at 26 points. (Thomastown 11, St Josephs 13,  KCH 28, St Senans 12, Kings River 2 and Castlecomer 0)
Among the results were U8 Boys – Patrick Drennan (13th), Lydia Deegan and Ella Cooke represented the U8 Girls with 5th and 9th places respectively. U10 Boys were well represented by Dara Leamy (4th), Harry Barcoe (9th), MJ Carroll (10th), Michael O Keffee (15th), Matthew Cooke (17th),  David Carroll (25th), Cathal Bennett (27th) and Dylan Drennan (28th) also had great runs in a big field of runners.
U10 Girls was claimed with a great win from Holly Drennan who ran a great race, Orlaith Carroll (5th), Emily O'Keffee (7th), Aisling O Neill (9th), Rachel Duff (13th), Lauren Phelan (18th), Anna Kelsey (20th), Lucy Cunningham (22nd) and Daisy Coomey (24th) also ran well in hard conditions and tricky corners. Eimear Keating (34th), Faye + Chloe McLoughlin also made a good finish (37th, 38th)
In the U12 Boys we were ably represented by Tom Kehoe (10th), Aidan Keating (12th), Luke Kelly (13th), Joseph Langton(17th), Odhran Prendergast finished nicely in 18th place with Calum Burke at 25th place. Well done to all as this was a competitive race.
In the U12 Girls Lucy Coomey took 2nd place for the club with a super fast run, Eimear Brennan finished fast on 8th, Abbie Cunningham on 12th and Ceola Leamy on 13th. Kathy Phelan came in for the club on 20th place and Eilish Keating and Katie Boyd finished at 23rd and 27th respectively.
U14 Boys saw four representatives from the club; Michael Holland (6th) Ben Drennan (7th) and Ruairi Phelan and Sean Cooke at 11th and 13th.
In the U14 Girls we had Kate Kelly and Caoimhe Bennett come in at 17th and 18th.
U16 Boys gave us Luke Phelan and Matthew Holland at 3rd and 4th – great result in a fast race and also Diarmuid Langton claimed 6th for the club and delivering Team medals for the club.
In the U16 Girls we had a super win from Pia O Grady and Maria Connolly came in 3rd. Super running again in this race.
Moving on to the Senior Ladies we had Katie O Brien in at 11th and Kathryn Kennedy (17th) Rebecca Kennedy (25th) Emma Cooke at 27th. The hill on each lap will be etched in the minds of all who ran this race for a while yet!
At the Seniors Mens Competition the weather took a distinct turn for the worse with rain bucketing down towards the middle and end of the race. This did not deter the brave men of the club though! Results as follows: Niall Sheehan ran a superb fast and very strong finish at 3rd, the club also claimed 7th (Dean Rowe), 9th (Shane Noonan), 11th (Paul Deegan), 15th (Paddy O Keefe) and Johann Muller at 17th.
In the Mens B Championship we collected 3rd place courtesy of Adrian Cunningham proving that its still possible to coach and run competitively! John Cody was 5th, Paddy Shortall was 12th and Tom Corrigan was 16th. Well done to all who ran a long,
challenging course.
That concluded the day which had descended into a downpour and everybody went home to relax, warm up and prepare for the next outing 🙂
Special thanks to everybody who ran at the event, it was the taking part that counted, the club was well represented and everybody ran with a great team spirit.
Full Results from Kilkenny County Board