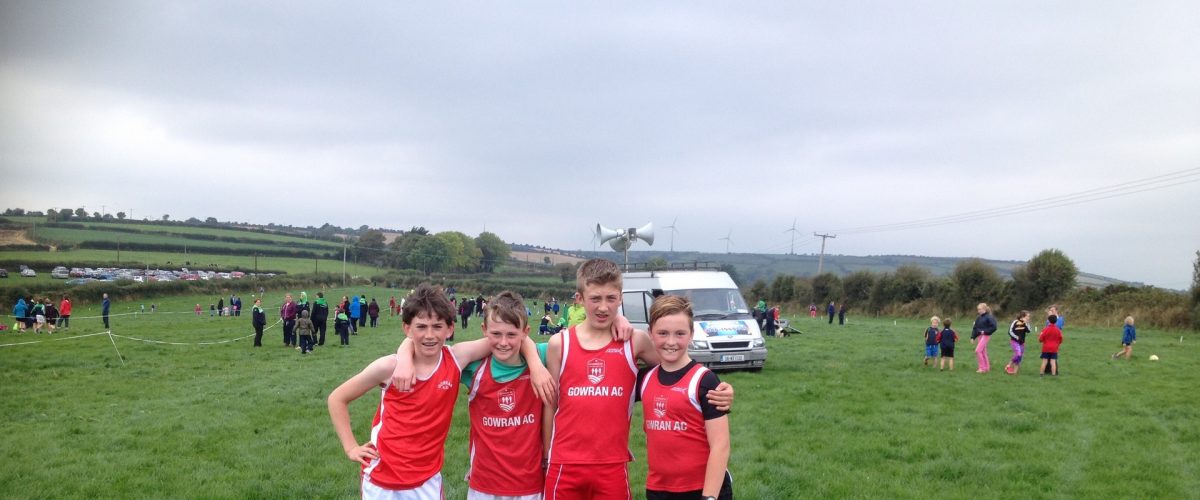 2015 Cross Country Championships Day 1 (evens)
5th October 2015
After last week's Indian summer conditions in kilmacow, Day 1 of the county championships saw a return to more typical autumnal weather. Thankfully, the rain that threatened never actually came and so the club gazebo survived another weekend in storage.
Host club, St. Joseph's had reconfigured the finish line this year, creating a wide open 200m straight run to the finish, however long grass, a slight incline and headwind meant for a tough finish for every race. That aside, the change to the course worked very well and made for very exciting finishes with plenty of support for athletes on both sides.
The club had a very good turn out, with over 40 juvenile and 6 masters runners taking part.
The day kicked off with the u8's, Molly, Laura, Anna and Kaitlyn all ran very well in their first proper county championships. Molly finished strong to claim a silver medal. In the boys u8, James Kelsey, recovered from an early fall to run strongly, up ahead Sam ran very well, Tom was just outside of the medals while Pauric won a second silver for the club.
The u10 (600m) was next, this was a big distance step up for this age. In the girls race, Sarah, Hazel and Abhainn all ran very well in a field of 30. Sarah and Hazel claimed top 10 places, while Abhainn had to run 600m to get to the start line in time!
We had 9 u10 boys and they did the club proud – picking up team bronze. Liam, Dara and Aaron packed well to finish 6th, 7th and 8th closely followed by Niall in 12th. Patrick Purcell ran his best race so far for the club to finish 16th, well supported by Albi in 17th, Mathew in 19th, Sean in 20th, Cain in 24th and Patrick continues to improve to finish a strong 28th.
The u12's race over 1500m and they were the first age to face the full hill, in the girls race, Hannah finished an excellent 3rd, and was close to 2nd for a lot of the race. Anna (20th), Maria (21st), Ella (22nd) and Liya (26th) all packed well to finish in the 20s. The team finished just outside the medals and look good for next Sunday's u11 race.
The boys u12 team did great – and claimed silver. The team was lead home by Charlie Mullins in 2nd, but Billy Coogan ran a super race to finish 7th, Cillian good season continued. this time he left himself a little too much to do after a slow start but still got up to 11th place, with Dara the fourth scorer in 15th. Dara was being pressed the whole way by Noah in 18th and Niall (26th).

The u14 girls ran 2000m, Caoimhe Coady ran very well in her season debut – a strong finish showed she has a great engine and will do very well in future races. Eve O'Dwyer ran a tactically astute race to claim her spot on the county squad by finishing 8th. Eve moved from 19th to 8th on the second lap and was involved in an exciting sprint finish for 6 – 8 place.
Boys u14 team claimed a gold medal, Gavin got an individual bronze, Henry 6th and Brogan 7th both earned places on the county squad and in one of the performances of the day David finished in 15th.

The talented Ruth Kennedy was our only representative in the girls u16 and finished a great 4th, sticking with the leaders for three quarters of the race.
Our u16 boys were one short of a team, nevertheless they ran well. Sean Middleton (14th)made his county championship debut and ran very well, up ahead Andy O'Donnell (12th) and David O'Carroll 10th both returned to club action.
Eoin O'Dwyer ran a strong race to finish second in the boys u18.
In the masters races, our ladies team won a silver medal. Well done to Siobhan, Mary, Helen and Catherine and our men's team also won silver – well done to Simon, Derek and Muiris.
Day 2 of county championships is next Sunday, Castlecomer at 11am. Please be there for 10.15
Girls U8
Molly Lynch 2nd
Laura Ryan 6th
Anna Kelsey 17th
Kaitlyn Wade 21st

Boys U8
Pauric Hanlon 2nd
Tom Keogh 5th
Sam McAviney 16th
James Kelsey 19th
Pauric fought for and won 2nd place on the line.
James Kelsey finished strong after a fall.
Girls U10
Sarah Keogh 6th
Hazel Coogan 10th
Abhainn Cody 27th
Boys U10
Liam O'Dwyer 5th
Darragh Dunne 6th
Aaron Doyle 7th
Niall Carpenter 12t
Patrick Purcell 16th
Albi Paul 17th
Matthew McAviney 19th
Sean Hanlon 21st
Kane Scully 24th
Patrick Wade 28th – ran very well. Much improved on last week.

Girls U12
Hannah Keogh 3rd
Anna Connolly 20th
Ella Cusack 21st
Maria Connolly 22nd
Liya Saji 26th
The girls were narrowly beaten to 4th team overall.
Boys U12
Charlie Mullins 2nd
Billy Coogan 7th
Cillian Dunne 11th
Darragh Carpenter 15th
Noah Scully 18th
Niall Manning 24th
2nd Team Overall
Girls U14
Eve O'Dwyer 8th
Caoimhe Cody 17th

Boys U14
Gavin Manning 3rd
Henry Farrell
Brogan McAviney
David Byrne 15th
1st team overall.

Girls U16
Ruth Kennedy 4th
Boys U16
David O'Carroll 10th
Andy O'Donnell 12th
Sean Midleton 14th
Boys u18
Eoin O'Dwyer 2nd