2018 Leinster Juvenile interclub T&F relays
The red army travelled to Enniscorthy for the leinster juvenile relays, which saw 10 teams from u9 to u19 compete. All the athletes ran well, with three of the 10 qualify for the all Ireland championships on July 7th- the u19 boys who grabbed gold, and the U17 and U12 boys who were both just edged out to finish 4th. This is a great step up from 2017 where 7 teams competed and no teams qualified for the finals.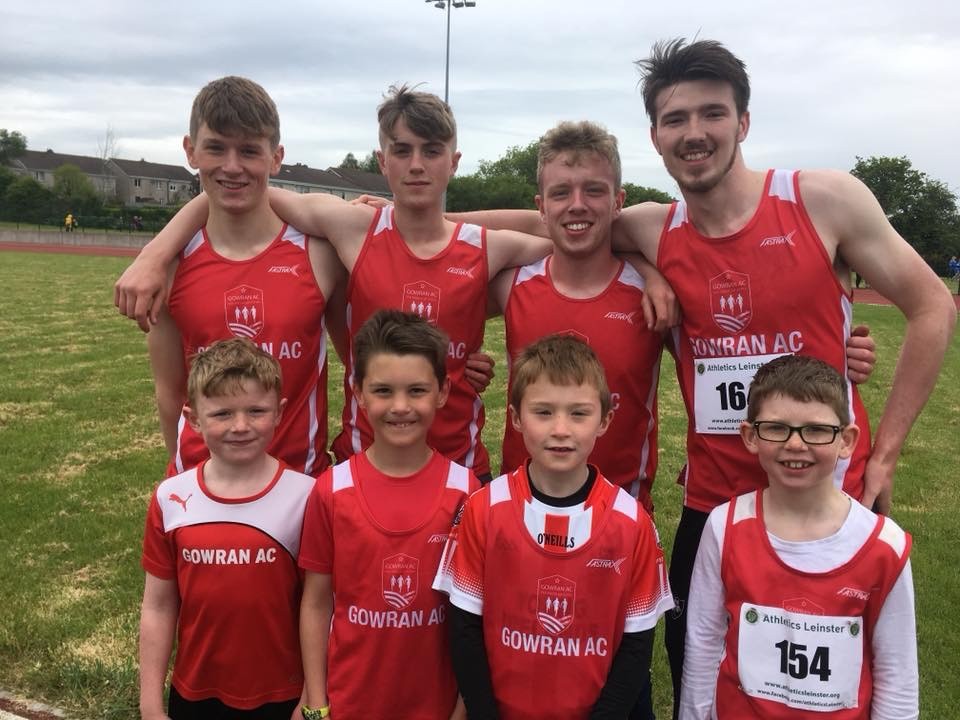 U9 GIRLS – 5th in heat.
1st time competing in a Leinster relay for this team with Niamh Brennan, Holly Drennan, Anna Kelsey and Saidhbhe Farrell. They had a slight obstruction at the first changeover and came 5th in heat and barely missed qualification time. A great start for a team with a great future .
U9 BOYS  – 3rd in heat and 5th in final
1st Leinster relays for these boys too with Dara Leamy, Dylan Drennan, Evan Ryan, Matthew Cooke and Sam Corr. They ran a stormer of a race but unfortunately not in the medals this time. They took time out from training to watch the inspirational u19 boys
U11 BOYS – Team A – 3rd in heat and 5th in final with Odhrán Prendergast, Daithi Magee, Noah Denieffe and Aidan Keating
Team B -7th in heat with Charlie Ryan, Eabhan Kehoe, Tom Kehoe and Jonathan Dunne
U13 Girls – 7th in heat with Clodagh Farrell, Rachel O'Neill, Leila Mahon and Doireann Farrell
The U12 and U13 girls teams were both short 1 runner each so Doireann stepped up to U13 in her first Leinster relay. They all ran well but unfortunately didn't make the final. #characterbuilding #teamplayer
U17 Boys – 4th in final (Gavin Manning, Ian Kelly, Peter Dunne, Eoin Murphy) – All Ireland Qualification
U19 Boys – 1st in final (Zach Denieffe, Eamon Mahon, Luke O'Dwyer, David Murphy)
U12 Boys – 1st in heat, 4th in final (Liam O'Dwyer, Daithi Magee, Darragh Dunne, Ben Drennan) – – All Ireland Qualification
U14 Girls – 6th in heat (Maria Connolly, Evie White, Ashling Fitzpatrick, Ella Cusack)
U18 Boys – 5th in final (Zach Denieffe, Peter Dunne, Luke O'Dwyer, Gavin Manning) – All Ireland Qualification